There are a few different ways to get photos from their source to your iPad. You can buy an accessory to import them from your camera or iPhone, save a photo you find on the Web or receive as an e-mail attachment, or sync to your computer to download photos you've saved there.
Importing photos from a digital camera or iPhone
You can import photos from a digital camera and photos or videos from your iPhone if you buy the iPad Camera Connection Kit from Apple. The iPad Camera Connection Kit contains two adapters: a USB Camera Connector you use to import photos from a digital camera or iPhone, and an SD Card Reader to import images from an SD card.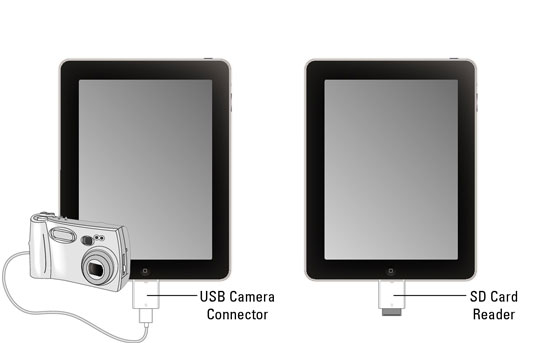 If you've got an iPhone 3G or earlier model, sad to say, it isn't supported by the connector kit.
Follow these steps to import photos, after you have the connector kit in hand:
Lock your iPad's screen by using the screen locker on the top-right side of the iPad.

Insert the USB Camera Connector into the Dock connector slot of your iPad.

Connect the USB end of the cord that came with your digital camera or iPhone into the USB Camera Connector.

Connect the other end of the cord that came with your camera or iPhone into that device.

Unlock your iPad.

Tap Import All on your iPad.

If you only want to import selected photos, tap individual photos, and then tap Import.

Disconnect the cord and the adapter and you're done!
You can also import photos stored on SD (secure digital) memory cards, which are often used by digital cameras as a storage medium. Simply lock the iPad, insert the SD Card Reader into the iPad, insert the SD card containing the photos, and then follow Steps 5–7 above.
Though not promoted as a feature by Apple, people have discovered that you can also use the USB connector in the connector kit to connect audio devices such as speakers or headphones, and to hook up some USB-connected keyboards that have lower power consumption.
Saving photos from the Web
The Web offers a wealth of images that you can download to your Photo Library on the iPad. The built-in Safari browser makes it simple to save any image you come across to your iPad. (Of course, you should be careful not to violate copyrights when grabbing pictures online).
Several search engines have advanced search features that allow you to only search for non-licensed images, meaning, at least theoretically, you don't have to pay for the images. But it's always a good idea to get written permission to use an image, especially if you intend to use it to make money (as with a company brochure or online course).
Follow these steps to save images from the Web:
Open Safari and navigate to the Web page containing the image you want.

Press and hold the image.

A dialog pops up and asks what you want to do.

Tap Save Image.
About This Article
This article can be found in the category: