Before you can read books or other publications on your iPad, you have to get them to your iPad. This involves downloading eReader software and then using it to buy eBooks, eZines, and other publications. iBooks is a good place to start; it's a free eReader that you can download from iTunes.
Finding books at iBooks
With iBooks downloaded, you can shop for something to read by tapping on the iBooks application icon to open it. (Note that it is probably located on your second Home screen, so you may have to swipe your finger to the left on the Home screen to find it.)
If you become addicted to iBooks, consider placing it on the iPad Dock for quick access from any Home screen. To do this, press and hold the app till all apps jiggle, then tap and drag the iBooks icon to the Dock. Tap the Home button and the jiggling stops.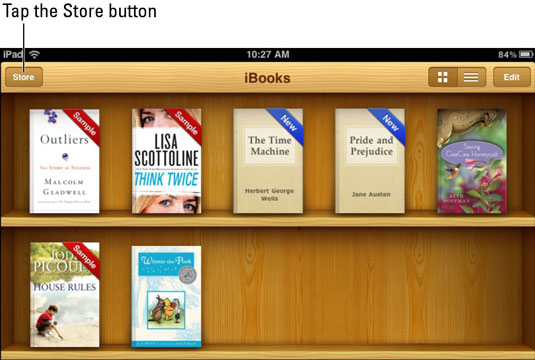 The iBooks library opens. At this point you see a bookshelf; yours probably has only one free book already downloaded to it. (If you don't see the bookshelf, tap the Library button to go there or, if no Library button appears on the screen, tap the Bookshelf button at the top-right corner of the screen — it sports four small squares.) For a cool effect, tap the Store button and the shelf pivots around 180 degrees to display the iBookstore.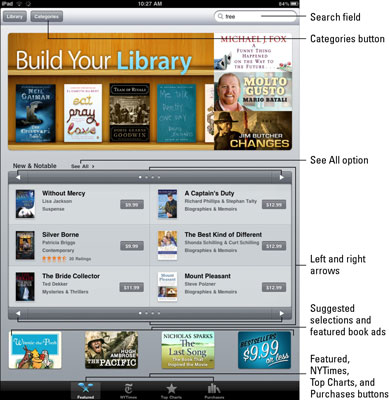 In the iBookstore, you can do any of the following to find a book:
Tap the Search field and type a search word or phrase using the onscreen keyboard.

Tap the right or left arrows located in the middle of the screen to scroll to more suggested titles.

Tap the Categories button to see a list of types of books. Tap a category to view those selections.

Tap See All to view more titles.

Tap the appropriate button at the bottom of the screen to view Featured titles, the New York Times Bestseller List, books listed on Top Charts, or Purchases to review the titles you've already purchased.

Tap a suggested selection or featured book ad to open more information about it.
To avoid buyer's remorse, you can download free samples before you buy. You get to read several pages of the book to see if it appeals to you, and it doesn't cost you a dime! Look for the Get Sample button when you view details about a book to get your free preview.
Exploring other eBook sources
iPad is capable of reading book content from other bookstores, so you can get books from sources other than iBookstore. To do so, first download another eReader application, such as Kindle from Amazon or the Barnes & Noble nook from the iPad App Store. Then use their features to search for, purchase, and download content.
Any content you have already bought from Kindle is archived online and can be placed on your Kindle home page in iPad for you to read any time you like. Deleting a book from this reader works the same as for iBooks: Just swipe a title toward the right and the Delete button appears.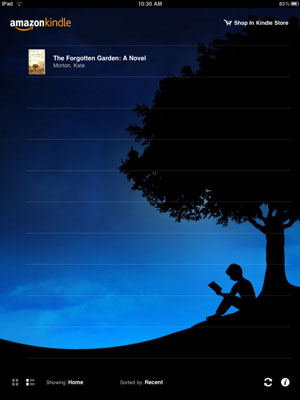 Buying books
If you have set up an account with iTunes, you can buy books at the iBookstore easily.
When you find a book in the iBookstore that you'd like to buy, tap its Price button.

The button changes to a Buy Book button.

Tap the Buy Book button.

Enter your password and tap OK.

The book appears on your bookshelf, and the cost has been charged to whatever credit card you provided when you opened your iTunes account.
You can also sync books you've downloaded to your computer to your iPad using the data connection cord and your iTunes account. Using this method, you can find lots of free books from various sources online as long as they are in the ePub or PDF format, and drag them into your iTunes Books library; then simply sync them to your iPad.
About This Article
This article can be found in the category: