iPad outstrips iPhone as the ultimate portable gaming machine because of its beautiful screen and unique features. Once you have registered for your Game Center account, you can start downloading games to play on your iPad. And here's how you do just that:
Open Game Center and enter your email address and password to sign in.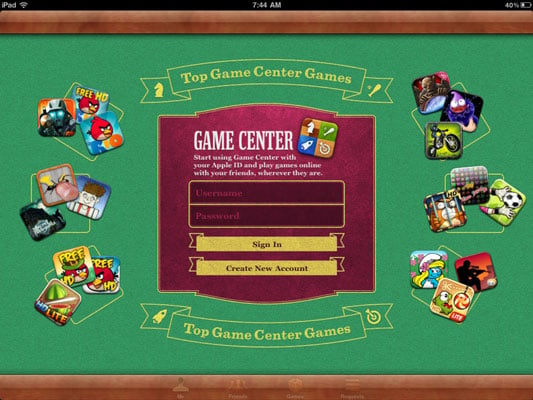 If you've never used Game Center, you're asked whether to allow push notifications: If you want to receive these notices alerting you that your friends want to play a game with you, tap OK.
Tap the Games button at the bottom of the screen, and then tap Find Game Center Games.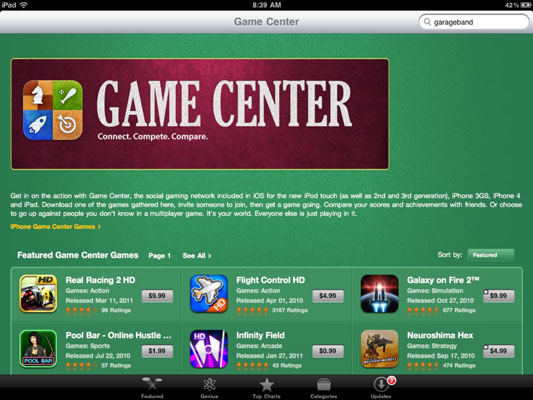 A long list of games appears. To view different games, tap either the Top Charts or Categories button at the bottom of the screen.
Accessing apps from the Game Center displays only game apps, as opposed to accessing apps from the App Store, which shows you all categories of apps.
(Optional) Tap the Search field and enter the name by using the onscreen keyboard.
The Search feature lets you find a specific game. To view information about a game, tap its title.
To buy a game, tap the button labeled with either the word Free or the price.
The button label changes to say Install App.
Tap Install App, enter your Apple ID and password, and tap OK.
Another verification dialog appears, asking you to sign in. Follow the instructions on the next couple of screens to enter your password and verify your payment information if this is the first time you've signed in to your account from this device.
When the verification dialog appears, tap Buy.
The game downloads.
About This Article
This article can be found in the category: