iTunes comes on your iPad, and it helps organize media — music, movies, audiobooks, podcasts, and such. Install iTunes on your computer, and use it to sync (transfer) downloaded content to your iPad. You can also use iTunes to sync your contact data, appointments, e-mail messages, notes, photos, bookmarks, and computer apps on your computer with your iPad.

Setup the iTunes app on your computer so that it syncs only the stuff you want transferred from your computer to your iPad.
Open your iTunes software.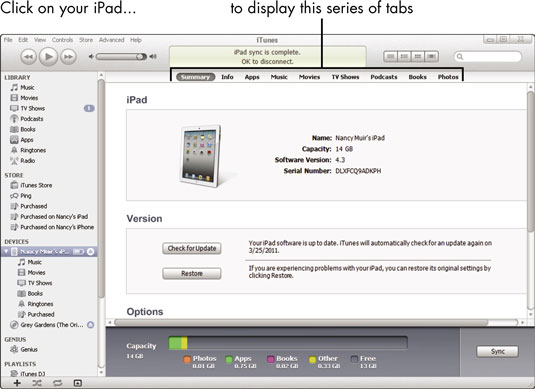 On a Windows computer, choose Start→All Programs→iTunes; on a Mac, click the iTunes icon in the Dock. iTunes opens and your iPad is listed in the Devices section of the Source List on the left.
Click on your iPad in the Devices list on the left.
A series of tabs displays. The settings on each tab allow you to select the kind of content you want to download and whether you want to download it automatically (when you sync) or manually.
Click each tab and make your selections from the settings options that appear.

On the Summary tab, you can select when updates to the iPad software occur, and set general syncing options. On the Info tab, select whether to sync Contacts, Calendars, E-mail, Bookmarks, or Notes. On the Apps tab, select which computer applications want synched to your iPad.
The Music tab controls which music is synched. The Movies, TV Shows, Podcasts, and Books tabs work similarly. On the Photos tab, you can specify which photo folders are synched to your iPad.
After making selections, click the Sync button.
You'll find the Sync button in the bottom right corner of the window. When you click it, the specified files are synched (transferred) from your computer to the iPad.
About This Article
This article can be found in the category: