The iBook app on the iPad 2 comes with its own iBook dictionary. As you read an e-book on your iPad, you may come across some unfamiliar words from time to time. Don't skip over them — instead, take the opportunity to learn a new word by looking it up in the dictionary!
With a book open, press your finger on a word and hold it down.

The word is selected, and a toolbar appears.
You can also double-tap a word to display the toolbar. If you select multiple words before calling up the Dictionary, then it will display a definition of the phrase you selected.
Tap the Dictionary button on the toolbar.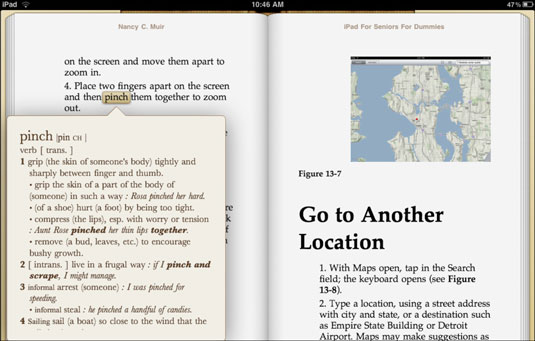 A definition dialog appears. Each meaning of the selected word is listed, but this list may not be large enough to display fully.
The iBooks dictionary currently supports only English and Japanese.
The first time you use the iBooks dictionary, you may need to download it. If so, tap the Download button that appears.
If needed, tap the definition and drag up.
The rest of the definition appears.
When you finish reviewing the definition, tap anywhere on the page.
The definition dialog box disappears.
About This Article
This article can be found in the category: