Podcasts are audio broadcasts you can listen to on your iPad. Most podcasts are free and feature a wide variety of topics. Podcasts often repeat at a regular cycle, known as episodes. Each episode of a podcast is different, like chapters in a book or issues of a magazine.
With iTunes open, tap the Podcast button in the row of buttons at the bottom of the screen.
A list of available podcasts appears.
Tap on a podcast selection.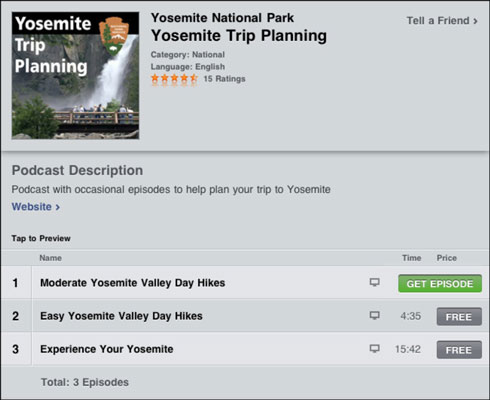 A listing of podcast episodes appears.
Tap the Free button, and then tap the Get Episode button.
The episode is downloaded to your iPad. After it downloads, you can play it using the iPod app.
If you want, you can tap on the name or number of a podcast to view additional information before you download it.
If you access your podcasts through iTunes on your computer and sync them to iPad, consider using the subscription feature. First, locate a podcast and click the Subscribe button. A URL for the podcast is displayed.
Copy the URL, and then, with iTunes open, click the Advanced menu and choose Subscribe to Podcast. In the dialog that opens enter the URL of a podcast you like. Now you'll get all episodes of that podcast delivered to iTunes as they become available.
About This Article
This article can be found in the category: