Using Quick Settings, you can configure commonly used settings. You can control the Fire tablet's rotation and screen brightness as well as switch to Airplane mode, which stops your Fire tablet from searching for available wireless networks.
You also can turn on Quiet Time, which stops notifications to your device, during the night or when you need to concentrate. You schedule Quiet Time from the Notifications & Quiet Time settings menu. You turn on Quiet Time from Quick Settings.
Swipe down from the top of the Fire tablet.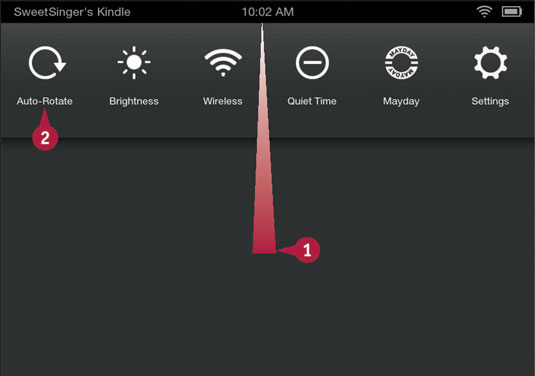 The Quick Settings panel appears.
Tap Auto-Rotate.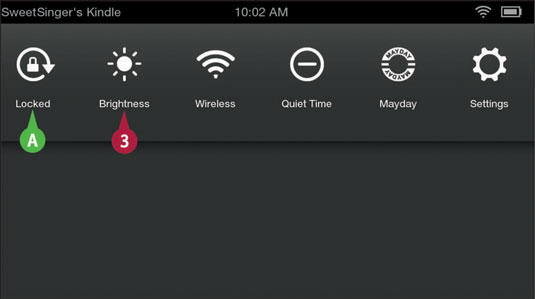 The Fire tablet is locked in the current position and does not rotate if you physically change the device's orientation.
You can tap Auto-Rotate again to unlock the device's rotation.
Tap Brightness.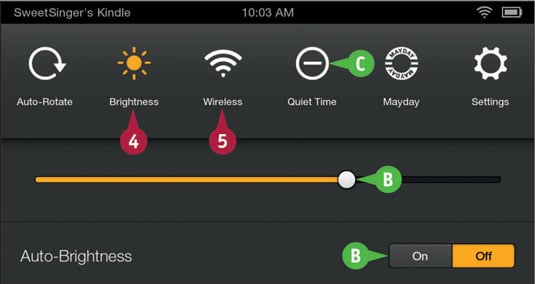 The Brightness controls appear.
You can drag the slider or tap On or Off to control Auto-Brightness.
Tap Brightness again to hide the Brightness controls.
You can tap Quiet Time to engage quiet time. A symbol like the Quiet Time symbol appears in the Status bar. Tap Quiet Time again to disengage it.
Tap Wireless.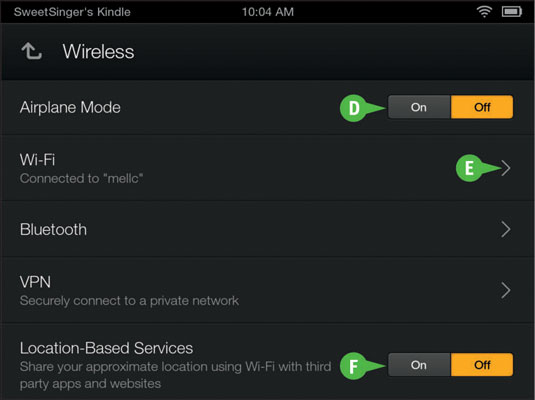 The Wireless settings page appears.
You can tap On to set the device to Airplane mode.
You can tap on the icon that resembles the greater-than symbol (see E) to connect to a different wireless network.
You can tap the Location-Based Services button to On to show your location via Wi-Fi.
You can tap the Home button at the bottom of the screen to redisplay the Home screen.
About This Article
This article can be found in the category: