If your printer supports mobile printing — and most modern printers do — you can print documents, photos, web pages, and email stored on your Fire tablet. To do so, you must download a piece of software called a printer plug-in to your tablet and install it.
You can print to any printer — those printers connected using Wi-Fi and those printers connected using a cable — as long as the printer is connected to the same network as your Fire tablet.
From the Home screen, tap Apps.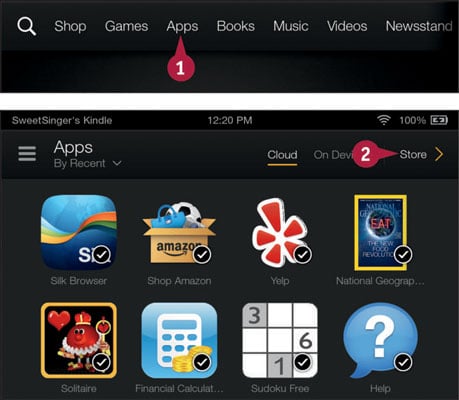 The Apps content library appears.
Tap Store (2). The Amazon Appstore for Android appears.
Tap the Search button (3) at the top of the screen.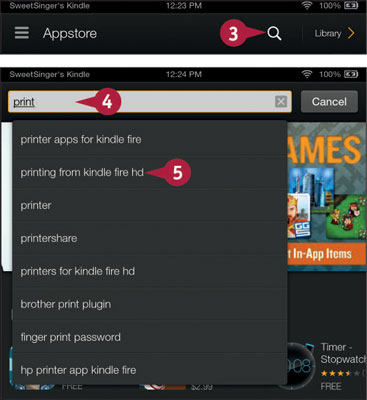 In the text box that appears, type print (4).
From the list that appears, tap printer apps for Fire tablet. The search results appear.
Tap your printer's plug-in. This example uses the Brother iPrint&Scan app.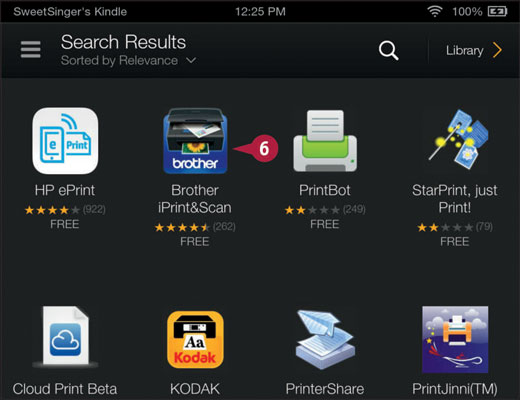 The printer plug-in's product page appears.
Tap Free. If prompted, tap Get App. The plug-in downloads and installs.
Note: You might be prompted to agree to an end user licensing agreement.
About This Article
This article can be found in the category: