You can check your Kindle Fire device settings to find out facts such as the remaining storage space available or your device's serial number. This is also where you can reset your Kindle Fire to the state it was in when it left the factory, if you like a clean slate now and then.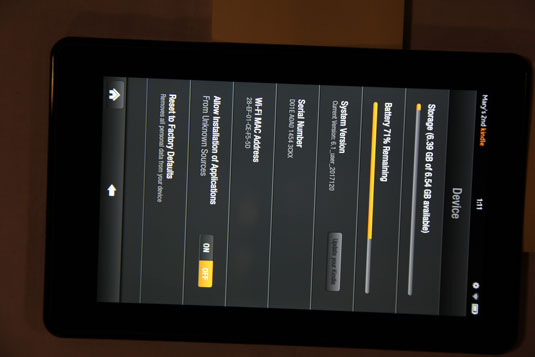 Here are the device settings available to you:
Storage: Tells you how much memory is still available on your device.

Battery: Indicates the percentage of battery power remaining.

System Version: Relates to the operating system version for your Kindle Fire. New versions are released periodically, so if your version isn't the most current, you might need to update it by tapping the Update Your Kindle button.

Serial Number: Here's where you can find the serial number you might need to reference to interact with Amazon technical or customer support.

Wi-Fi MAC Address: Every device that can connect to a Wi-Fi network has a unique address. This is where you can find yours.

Allow Installation of Applications: Kindle Fire is set up to get its content from Amazon because that provides some measure of confidence and security. For example, apps you sideload from your computer to Kindle Fire that are from third-party suppliers are more likely to introduce viruses to your computer.

Still, you can buy apps elsewhere and port them over from your computer. If you want to allow this, choose On in this setting. If you don't want to let apps other than those verified by Amazon to be placed on your Kindle Fire, tap Off.

Reset to Factory Defaults: This setting could come in handy in a couple of situations. If you sold your Kindle Fire to somebody (so you can buy a newer version, of course!), you wouldn't want that person to have your docs and contact information.

Also, if you've loaded a lot of content on your Kindle Fire and then decide you want a clean beginning to clear up memory, you might choose to reset the device. Resetting wipes all content and any changes you've made to default settings. If you tap this setting, you see a confirming dialog box.

Tap Erase Everything to continue with the reset procedure or Cancel to close the warning dialog box and halt the reset.
Although you get 8GB of storage with Kindle Fire, a chunk of that is taken up in pre-installed and system files. So the storage available may indicate that you have something like 6.5GB of total storage available on the device.
About This Article
This article can be found in the category: