When you're setting up a holiday light display, you can purchase a ShowTime PC controller from Light-O-Rama as a do-it-yourself kit, but you'll have to assemble it yourself. That means you'll have to solder all the components to the main circuit board, install the board into the weatherproof container, and connect all the various cords that are required for the unit to work.

The instructions that come with the kit are excellent. But here are a few tips that may help ease the process:
Allow plenty of time. Even if you're skilled with a soldering iron, the circuit has a lot of components, and it may well take you two or three evenings to completely assemble the kit.
Read through the entire assembly instructions before you start. That way, there won't be any surprises.
Clear off your workbench. There are a million little parts in the kit, so you need plenty of space to spread your stuff out.
Organize the parts. Get some small containers to hold all the various parts and help keep them organized. I like to use small disposable plastic bowls.
Secure parts on the board before you solder. Get some blue painter's tape to hold parts to the board while you solder them in place.
Turn off the TV. The last thing you need while you're assembling a complicated kit is distraction.
Use lighted magnifying goggles. They make your work a lot easier.
Secure the circuit board. A third-hand tool or, better yet, a hobby vice will come in handy to hold the circuit board while you solder.
Use the proper soldering tools and techniques. Make sure you use a low-wattage soldering iron (25 W) and fine-gauge solder for the sensitive parts, especially the integrated circuits. The ICs are soldered directly to the circuit board and can be damaged if you heat them too much.
The figure shows the circuit board being assembled.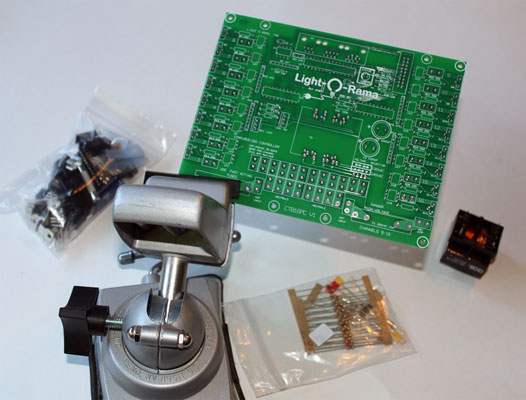 Assembling the ShowTime PC circuit board.
After you've assembled the circuit board, you can install it in the weatherproof plastic box and connect the power cords. Again, Light-O-Rama provides excellent illustrated instructions for this task.
Pick up a set of numbered electrician's stickers so that you can properly label each of the 16 power cords. You can find these stickers at any home-improvement store that stocks electrical items. If you don't label the cords as you install them, you won't know which cord corresponds to each of the 16 channels.
About This Article
This article is from the book:
This article can be found in the category: