Light-O-Rama's most popular lighting controller for residential use is called the ShowTime PC controller, shown in the figure. Several companies sell lighting controllers for holiday displays. From Light-O-Rama, you can purchase preassembled lighting controllers, or you can purchase kits and assemble the controllers yourself.

So if you're handy with a soldering iron, you can save a few hundred dollars on a basic sequencer by building the circuit yourself. For complete information about Light-O-Rama and its products, point your browser to www.lightorama.com.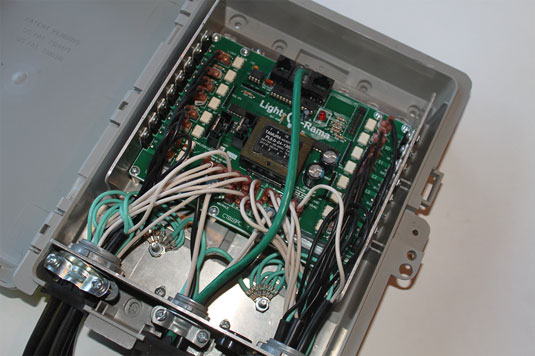 The basic ShowTime PC controller from Light-O-Rama.

Light-O-Rama controllers are useful for much more than just holiday displays; they're also useful for school events, carnivals, amusement parks, store and museum displays, theatrical productions, malls and shopping centers, and so on.

The ShowTime PC controller (model number CTB16PC) offers the following basic features:
Sixteen separate channels of light: Each channel is a separate 120 VAC circuit that can power up to 8 amps of lights. The power cords dangling from the bottom of the unit are where you plug the lights in; each cord connects the lights for one of the 16 channels. (The total current load for the controller should not exceed 30 amps.)

In most cases, you won't plug your lights directly into the power cords dangling from the bottom of the lighting controller. Instead, you'll use extension cords to reach from the lighting cords to where the lights are actually placed. If you plan on making a holiday lighting display, you'll need a lot of extension cords.

Sixteen channels is enough to get started with Light-O-Rama displays, but once you've set up your first show, you'll wish you had additional channels. Most Light-O-Rama setups include two, three, or four controllers for a total of 32, 48, or 64 channels.

The ability to turn the lights on and off, separate for each channel: The controller also has a few other special effects, such as fade up, fade down, different intensity levels, twinkling, and shimmering.

These special effects are what make the Light-O-Rama controller special. You can find much less expensive ways to simply turn lights on and off. For example, two Kit-74 relay controllers connected to a computer can turn 16 channels of lights on and off for less than half the price of a ShowTime PC controller. However, the Kit-74 can't fade the lights up or down, and the ability to gradually fade the lights adds a lot to the impact of the light show.

Computer control of the light show: You simply connect the ShowTime PC controller to the computer via a special USB adapter cable. Then, you run special software available from Light-O-Rama to control the show.

Although the ShowTime PC controller is mounted in a weatherproof container, your computer isn't. As a result, you'll want to place the computer inside your house or garage, then use a long cable to reach the ShowTime PC controller.

Light show control without a computer: If you don't want to drive the show from a computer, you can purchase a special device called an MP3 Director that lets you control the show without a computer.
Expandability: You can connect as many as 240 ShowTime PC controllers together to create a massive show with as many as 3,840 separate light circuits. You'd need a small nuclear reactor to power it all, but it's possible.
If you want to get started with Light-O-Rama, purchase one of its starter kits. You can purchase a completely preassembled kit including a 16-channel ShowTime PC controller, USB adapter, and software for under $400, or you can purchase built-it-yourself kits for considerably less. These kits require you to solder the components to the board, but assembling the board yourself will give you the satisfaction of knowing you built it yourself.
About This Article
This article is from the book:
This article can be found in the category: