In this article, you discover a series of quick tips used by the top professional travel photographers. As you go through each tip and sample iPhone photo, keep a note of which techniques resonate with you and how you can plan to implement them on your next trip.
Practice design-based photography
It's often tempting to photograph an entire beautiful building when traveling. That's fine, but to add a sense of fine art to your collection try and focus on design-based photos that rely on form and angles. This figure shows four photos taken of the same wall at different times of the day. These photos would be considered art photography more so than documentary photography. Place your photos together into a quadrant design using Instagram's Layout app for extra impact!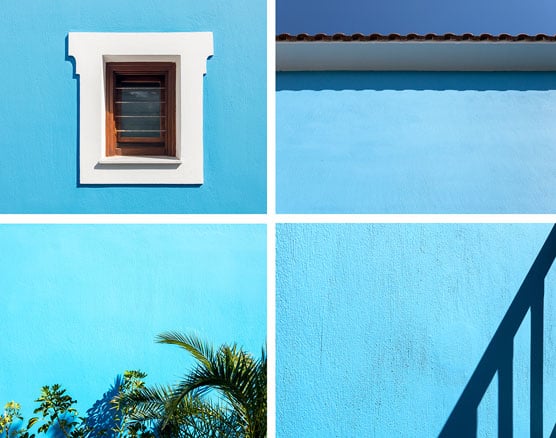 Photograph details that include angles and shadows for more of a fine art look and then combine them into a collage using apps like Layout.
Place S-curves in your compositions
An S-curve is one of the oldest compositional technique in the history of art. Think of a painting of a garden with a path winding through it or a forest trail. These pathway scenes almost always have a curve to them, and rarely are straight-lined.

An S-curve is pleasing to the eye, and they're found often in nature and in urban environments. This figure shows a mountain village scene in Nagano, Japan. The road exhibits a curve that leads the viewer's eye throughout the picture space. Keep in mind that the curve doesn't need to be in the exact shape of the letter S.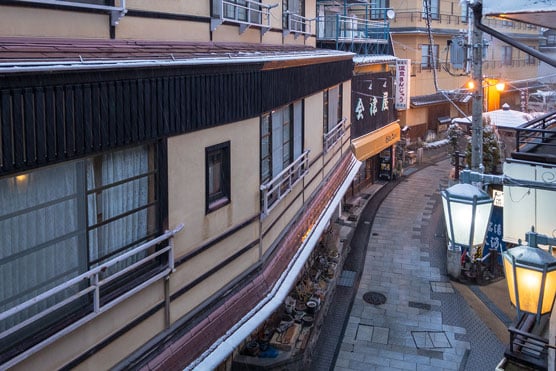 S-curves lead your viewer's eyes through your photo.
Frame your primary subject
Your travel photography should certainly contain normal documentary snapshots, but don't forget to add a sense of fine art to your images by using a compositional technique called framing.

The famous Parroquia in San Miguel de Allende, Mexico is photographed ad nauseum, so why not mix things up and hide most of the church by using a frame? Look for ways to visually enclose the iconic structure that you're photographing, such as well-positioned trees in the following. By doing so, you will create a sense of mystery. Your viewer will be intrigued enough to ask to see more photos of that location.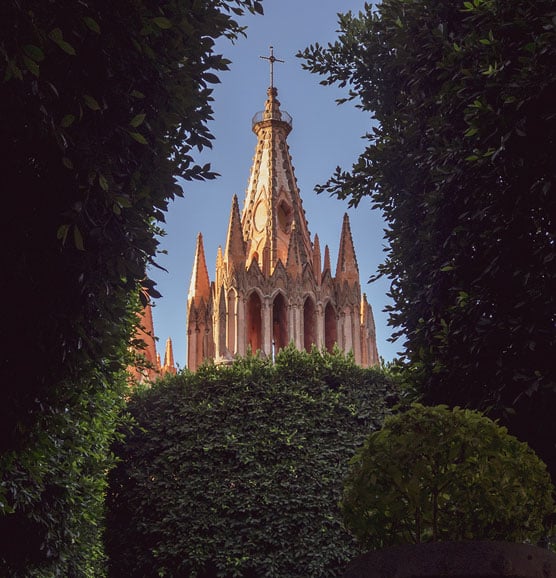 By framing and partially hiding famous landmarks, you can create unique and mysterious travel photos.
Photograph exterior architecture twice
When travelling, you'll certainly encounter exterior buildings, shops, houses, and other buildings that look interesting to you. Use this general rule to successfully capture exterior façades, such as the Japanese shop front in the following figure.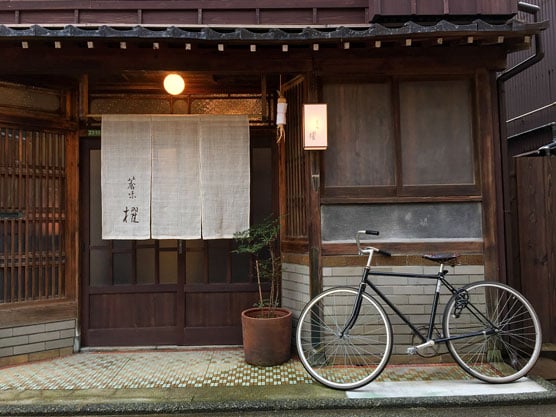 Completely straight-on is the most common way to photograph exteriors.
Photograph the building façade perfectly straight on.
Then, photograph the building façade at a 45-degree angle as in the following figure.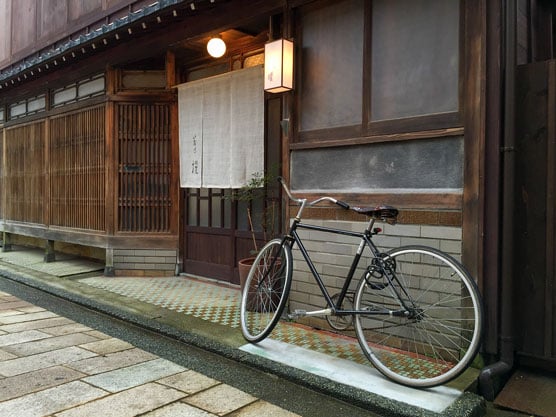 Photographing at a 45-degree angle is another popular way to photograph exteriors.
These two angles are widely used by professional architectural photographers. It's rare that pros capture facades outside of these two angle options.
Include pattern photos of unusual scenes
While cobblestone streets may not be as unique to those who live in Europe or Latin America, for the rest of the world they certainly have charm for those who only experience pavement every day. When you see any type of scene that does not have a primary subject, such as hundreds of equally sized cobblestones, you can consider the scene an example of a pattern or texture photo.

Take a look at the following figure. It has no unique main subject in the photo, because all of the cobblestones are the subject. You could consider this a pattern photo then, and by carefully composing so that the lines are even, you can create an intriguing frame-worthy travel photo. Just make sure that there is no object in your photo that would steal the attention away from the hundreds of other cobblestones.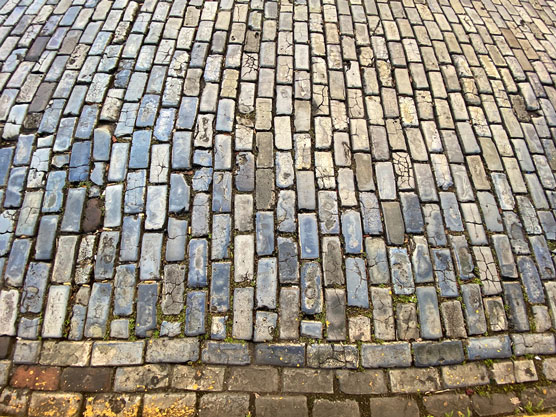 A pattern or texture photo doesn't contain a unique main subject, as each element in the photo is a similar size, shape, or tone.
Other texture or pattern photo examples are a brick wall, sand on the seashore, repeating tiles on an old church floor, and any scene where there is no visually distracting main subject that steals the attention from the rest of the picture.
Schedule famous landmarks as early as possible
Have you ever planned to visit a highly Instagrammed famous location, hoping to get a photo when no one else is in your shot? With tourism on the rise worldwide, it's getting harder and harder to photograph without fellow tourists ruining your serene iPhone photo.

The following figure shows a very rare time when there was no one in the famous bamboo groves of Kyoto, Japan. The only reason this was possible was due to a 6 a.m. photo shoot start time! Yes, it's hard to wake up early when you've been photographing the night before, but your lack of sleep will be worth it to get the exact shot that you want.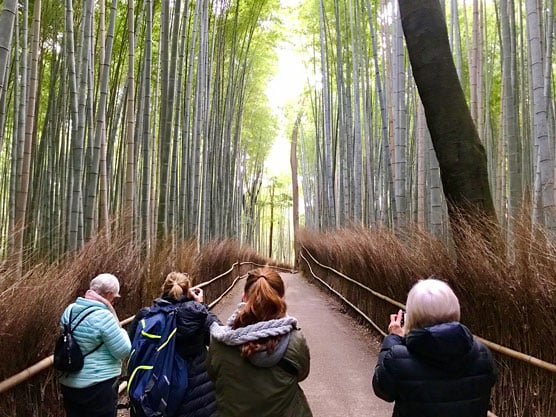 If possible, plan to arrive at iconic locations as soon as there is light in the sky.
Wait for animals to move into the picture space
It's rare that you will be able to control the movements of an animal, so as a photographer you will just need a lot of patience. Take the swan here, for example. It would have been better to have captured the swan when it was positioned a bit to the left, so that it was swimming into the picture space instead of swimming out of the picture space.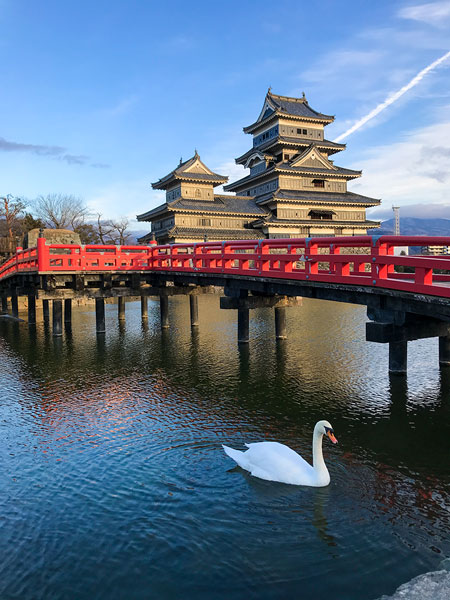 When possible, capture animals moving so that there is more space in front of them than behind them.
You viewers will appreciate having the animal flow into your photo, as it's a more visually harmonious way to compose animals in motion.
Choose your background first
Are you travelling with a group of friends or family members? Put your creative thinking hat on when deciding on group photo locations. If you are showing your travel photos publicly on social media, very few people will be interested in group photos with a blah-looking background.

Here is an example where I saw the location first and then gathered my friends for a fun group photo. Even go so far as place your friends so that their positioning is harmonious with the background. This is a great way for your social media friends and followers to stay engaged with your images, rather than flip quickly to the next picture.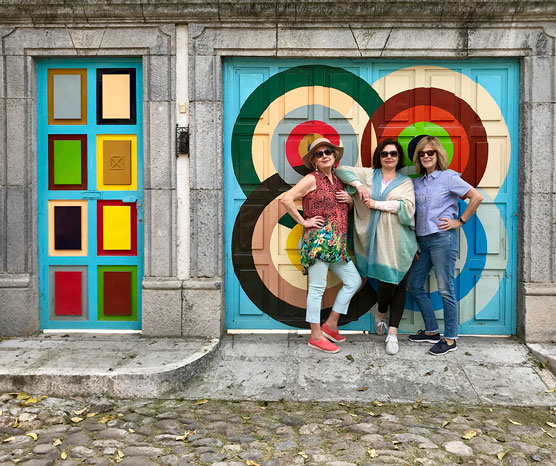 Find your backgrounds first and then add your friends and family members second.
Match color when possible
For lack of a better term, matching color simply means that you wait until another person, animal, car, or other moving object enters your composition that has the same color. This technique is rarely practiced because it involves a lot of waiting.

Take the following figure, for example. I saw the classic green VW Beetle and also knew that San Miguel de Allende taxis are also painted the same green color. So, with a relatively easy five-minute wait, crouched in position, the magic happened when the taxi drove straight into the composition.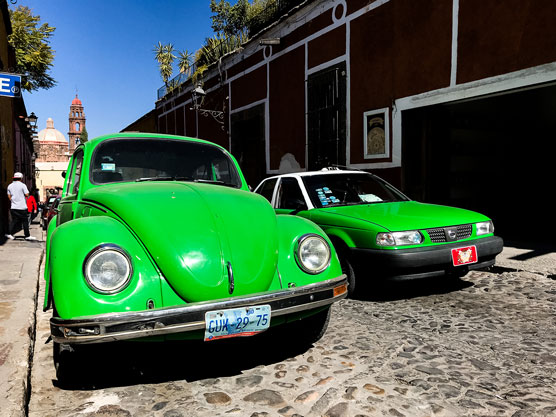 Wait for a second subject to enter your frame that includes the same or similar colors as your primary subject.
Include national text and fonts in your photos
It won't matter that most of your viewers won't be able to read the letters of the foreign language that you just photographed on your overseas trip. The main priority, however, is that you successfully added a sense of place for the sake of your viewer.

While your viewer may not know Thai script as in this figure, they may assume that the script looks like a South-East Asian language. Without any description to tell them what the language is, they at least can place the photo in a rough geographic area.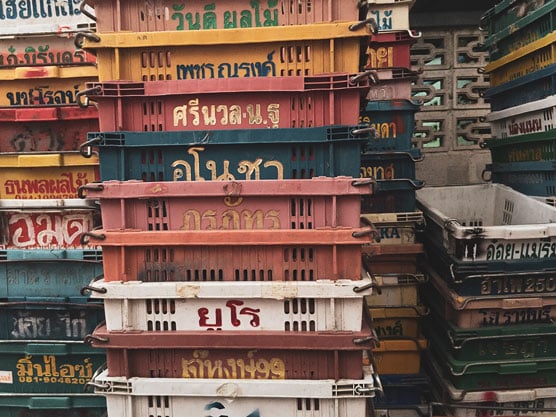 Artistically include a lot of national script within your travel iPhone photos.
Compose with equidistance
The Corinth canal in Greece is a stunning location for iPhone photos and videos. When you encounter a scene like this canal, you will see that location is symmetrical. The left side is pretty much the same as the right side, with the canal in the dead-center.

Usually when you see a symmetrical scene its best to compose your image using equidistance. When used as a photographic term, equidistance simply means that the left side distance is equivalent to the right-side distance. Take a look at the figure. The canal is placed perfectly centered so that the cliffs have the same distance measurements on either side of the canal.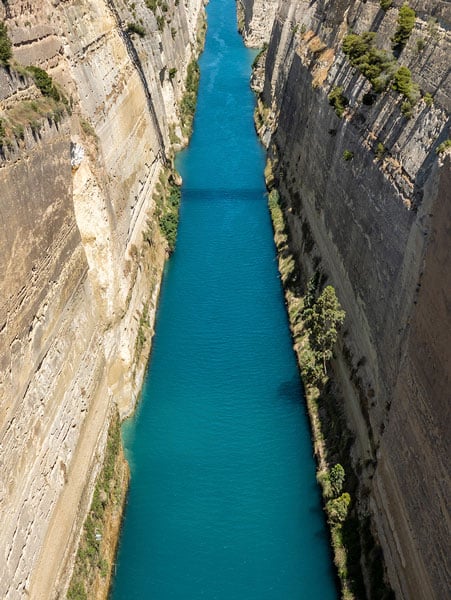 When your subject exhibits symmetry, make sure that the left side and the right side have the same distance measurements within your composition.
Tighten the view of iconic buildings
When travelling, its often advantageous to try every trick in the book to take your photos from documentary snapshots to fine art travel photos. One way to do this is to look at a famous landmark and choose a detail to capture rather than showing the whole structure.

The Leaning Tower of Pisa is a great example. This location is one of the most photographed in the world, so how can your photo stand out from the crowd? Try to tighten your view of the tower, or whatever you're photographing, so that you are creating a detail photo. Throw in your favorite black-and-white filter, and you just created a frame-worthy fine art wall-hanging, similar to this figure.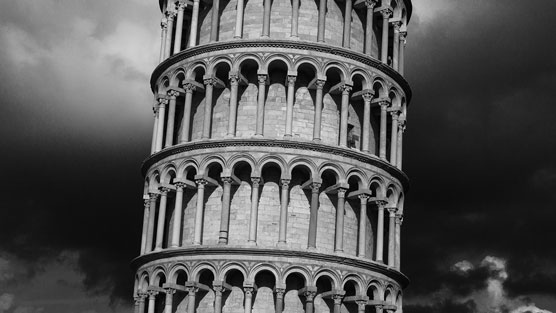 Iconic structures can be interpreted just as effectively as detail shots, where you choose your iPhone's telephoto lens or you zoom in.
Compose family members looking into the frame
Everybody wants to look good when being photographed during vacation or travelling. So, the next time that you photograph your friend or family member at that stunning Greek island beach, ask him or her to look into the picture space. This simply means that there will be far more space in front of the person than behind, as in the following.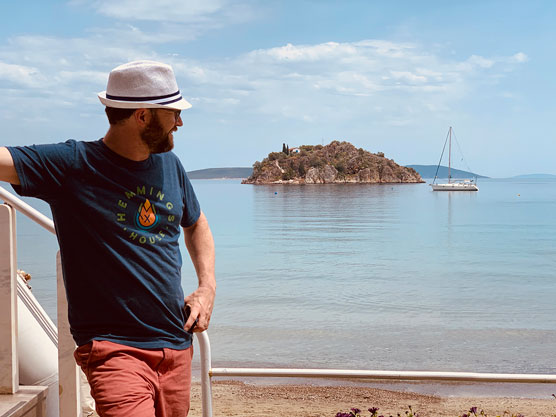 Have your model to the side of your frame, where they are looking into the picture space instead of looking out of the picture.
Review your favorite establishments
Did you just enjoy the best chocolate of your life while in Europe? Or maybe an unbeatable gordita while in Mexico? If you had a really positive experience at a local business while travelling, take a moment to give that establishment a positive review on Trip Advisor, Google, Facebook, Yelp, and any other review site. Local establishments can greatly benefit by your reviews, which allow them to provide for their families and continue to produce great products and services.

When I visit Jerusalem, I can't get enough of Arabic coffee served in the traditional way, as shown. This café near the Western Wall is my go-to both in the morning and mid-day. After that blast of delicious caffeine, I'm good to go for a lot more iPhone photographs!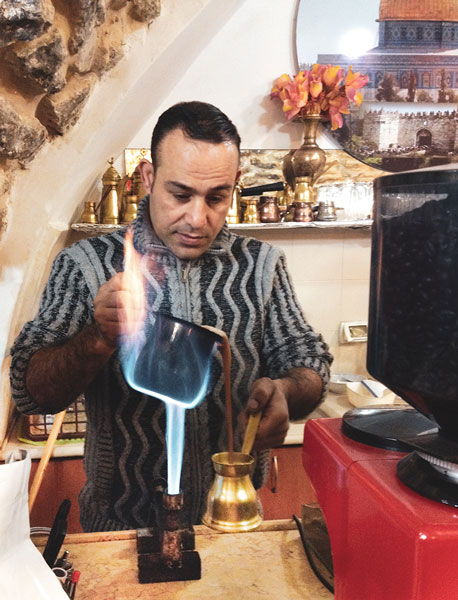 Help local establishments by posting positive reviews when you are travelling.
About This Article
This article is from the book:
This article can be found in the category: