The Reminders app isn't just any ordinary to-do list: Reminders on the iPhone can be tagged to your location, and it also works nicely with Calendar and Reminders on a Mac running Mountain Lion, Mavericks, Yosemite, or iCloud. You can keep reminders just on the iPhone, or iCloud can keep reminders in sync across all your iOS devices and computers.
Consider the power of tying a reminder to your location. You'll be notified of the items you must pick up at the supermarket the moment you drive into the grocery parking lot. Or perhaps a reminder to call your spouse will pop up when you land following a business trip. If you take advantage of the Family Sharing feature, each family member will also receive certain reminders.
Reminders are organized in lists. Apple supplies a general Reminders list and a list that reveals the items you've completed. You let the app know that you've completed a chore by tapping the little circle next to the task.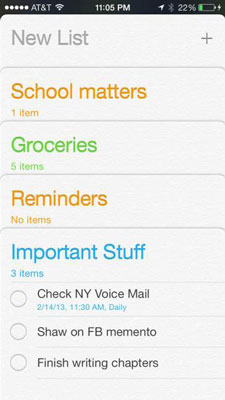 You can create your own lists, of course, perhaps one for groceries and another for the tasks you must do for the PTA. Simply tap New List, and name your list anything you want. If you want to color-code your new list, tap a color dot.
When you go into a list, you'll see any due dates you've assigned plus the location (if any) where you can act upon the task.
To add a reminder to a list, tap the list in question. Tap a blank line in the list, and type the next item to add to the list.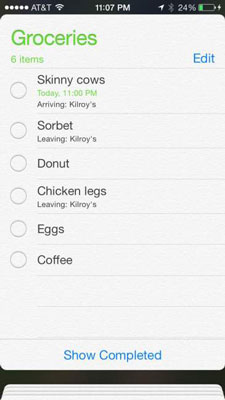 If you want to remove any items, tap Edit and then tap the red circle that appears. As an alternative, swipe to the left on an item and tap Delete. You can change the order in which an item appears by dragging the three horizontal lines next to the item.
When you tap Edit, you can also delete the entire list.
When you swipe to the left on an item, a Delete button is summoned. But another button appears right next to it, labeled More. Tap More to display a Details screen. You can get to this same screen when you tap a reminder and then tap the i-in-a-circle.
From here, you are presented with several choices: You can tap the name of the item in the list to rename it. You can assign a priority to the reminder (using exclamation marks for emphasis). You can add notes to the task ("When you get milk, make sure to buy Lactaid"). You can also choose a date and time to be reminded, and tack on an alarm if need be.
But the feature that is especially cool is that you can also request to be reminded at a given location. The location can be your current whereabouts (where you can choose When I Arrive or When I Leave) or a designated address that you type in a search box. (Remember to turn on Location Services in Settings, if it's not already on.)
Please note that the location feature doesn't work with Microsoft Exchange or Outlook accounts or in every locale. And if your phone is locked, you may experience reminder delays.
Reminders are a great reason to call on Siri. Ask Siri to remind you of something and she (or he) will do your bidding.
Reminders is another app that exploits the extra-large display on the iPhone 6 Plus. Rotate the 6 Plus to landscape mode, and you get two panes of information, not one. On the left, you see a list of your Reminder headings. On the right, you see the actual reminder within a selected heading.
You can view your reminders and see alerts in Notification Center. And remember that with iOS 8, you can take immediate action on any interactive notification pertaining to reminders that you receive. From those notifications, you can mark a reminder as having been completed, or tap Snooze to be reminded again.
In Settings, you can turn on Do Not Disturb if you don't want to be nagged by a reminder. While in Settings, you can also choose a default reminders list, and determine how far back to sync reminders (from 6 months back to 2 weeks back, assuming that you don't want to sync all your reminders).
About This Article
This article can be found in the category: