Your contacts list is like your phone book; it's the associates, friends, and family who you have entered and saved into your iPhone. You can find a contact in your iPhone by following a few easy steps.
Inside the Phone application, tap Contacts.
Your Contacts list appears.
Flick your finger so that the list of contacts on the screen scrolls rapidly up or down.
This is loosely reminiscent of the spinning Lucky 7s (or other pictures) on a Las Vegas slot machine. Alternatively, you can tap one of the tiny letters to the right side of your Contacts list to jump to names that begin with that letter.
When you're at or near the appropriate contact name, stop the scrolling by tapping the screen.
Note that when you tap to stop the scrolling, that tap doesn't select an item in the list. That may seem counterintuitive the first few times you try it.
Tap the name of the person you want to call.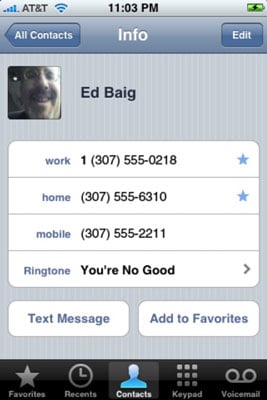 As shown here, you'll notice a bunch of fields with information such as the individual's phone numbers, physical and e-mail addresses, and possibly even his mug.
Because odds are pretty good that the person has more than one phone number, the hardest decision you must make is choosing which of those to call. When you've reached a decision, tap the number, and the iPhone initiates the call.
About This Article
This article can be found in the category: