Entering a person's contact data into your iPhone by hand is a tedious bit of business at the best of times, so it helps if you can find a faster way to do it. If you can cajole a contact into sending his contact data electronically, then you can add it with just a couple of taps.
What does sending contact data electronically mean? Long ago, the world's contact-management gurus came up with a standard file format for contact data — the vCard. It's a kind of digital business card that exists as a separate file. People can pass this data along by attaching their (or someone else's) card to an email message.
If you get a message with contact data, you see an icon for the VCF file.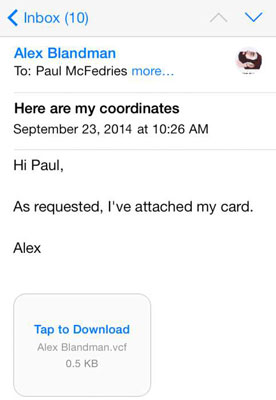 To get this data into your Contacts app, follow these steps:
In the Home screen, tap Mail to open the Mail app.

Tap the message that contains the vCard attachment.

Click Tap to Download and then tap the icon for the vCard file.

Mail opens the vCard.

Tap Create New Contact.

If the person is already in your Contacts app, but the vCard contains new data, tap Add to Existing Contact and then tap the contact.
About This Article
This article can be found in the category: