Before you can use iCloud on your iPhone, you need an iCloud account, which is tied into the Apple ID you probably already have. You can turn on iCloud when first setting up your iPhone or use Settings to sign up using your Apple ID. When first setting up your iPhone after upgrading to iOS 5, you see a sequence of screens.
Tap Use iCloud.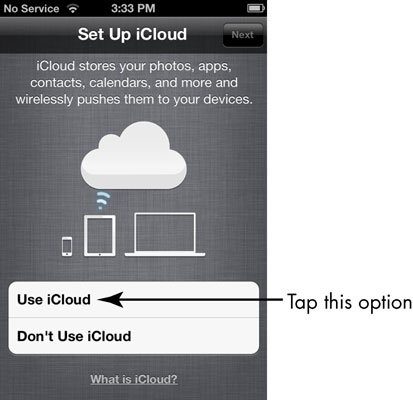 The Set Up iCloud screen appears as one of a series of screens.
In the next dialog, tap Backup to iCloud.
Your account is now set up based on the Apple ID you entered earlier in the setup sequence.
If you didn't set up iCloud on your iPhone when first setting up iPhone, tap Settings and then tap iCloud.
Tap the On/Off button to turn on iCloud.
Enter your Apple ID and password and tap the Sign In button.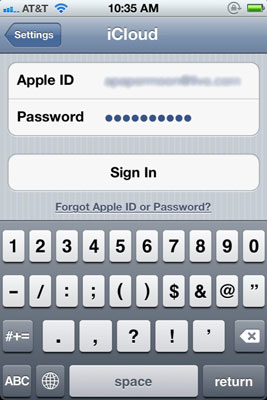 If you don't have an Apple ID, tap the Get a Free Apple ID button and follow the instructions to get your ID. A dialog appears, asking whether you'd like to merge your iPhone calendars, reminders, and bookmarks with iCloud.
A dialog may appear asking if you want to allow iCloud to use the location of your iPhone. Tap OK.
Your account is now set up.
About This Article
This article can be found in the category: