The onscreen keyboard appears on the bottom part of the touchscreen whenever your Android phone demands text as input. The image below illustrates the typical Android keyboard, which is called the Google keyboard. Your phone may use the same keyboard or some variation that looks subtly different. All onscreen keyboards are based on the traditional QWERTY layout and not something designed merely to tick you off.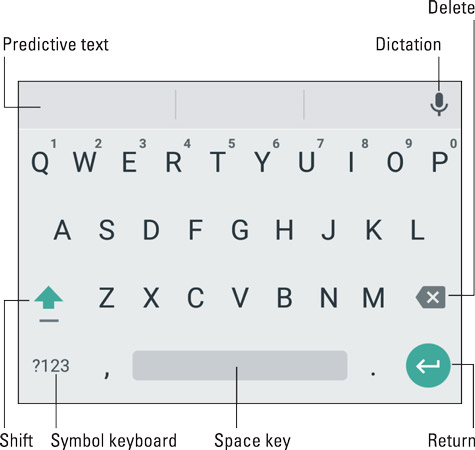 The onscreen keyboard.
Here, the onscreen keyboard is shown in alphabetic mode. You see keys from A through Z in lowercase. You also see a Shift key for producing capital letters, and a Delete key, which works to backspace and erase.
The Return key changes its look depending on what you're typing. Your keyboard may show these variations graphically or by labeling the key with text. Here's what each one does:

Return key variations.
Return: Just like the Return or Enter key on a computer keyboard, this key ends a paragraph of text. It's used mostly when filling in long stretches of text or when multiline input is needed.

Go: This action key directs the app to proceed with a request, accept input, or perform another action.

Search: You see the Search key when you're searching for something. Tap the key to start the search.

Next: This key appears when you're typing information into multiple fields. Tap this key to switch from one field to the next, such as when typing a username and password.

Done: This key appears whenever you've finished typing text in the final field and are ready to submit input.
The large key at the bottom center of the onscreen keyboard is the Space key. The keys to the left and right may change depending on the context of what you're typing. For example, the / (slash) key or .com key may appear in order to assist in typing a web page or email address. Other keys may change as well, although the basic alphabetic keys remain the same.
To display the onscreen keyboard, tap any text field or spot on the screen where typing is permitted.

To dismiss the onscreen keyboard, tap the Back icon.

Some onscreen keyboards feature a multifunction key. It may be labeled with the Settings (Gear) icon, a Microphone icon, or another icon. Long-press the multifunction key to view its options.

The keyboard reorients itself when you rotate the phone. The onscreen keyboard's horizontal orientation is wide, so you might find it easier to use.

Some older Android phones featured a physical keyboard. If you'd like to use this type of keyboard with your phone, consider getting a Bluetooth keyboard. The models available for use on tablets also work on Android phones.
About This Article
This article can be found in the category: