When you are podcasting, you have to keep track of a lot of components. Besides ensuring that the hardware is operating properly, that your software is capturing audio without fail, and keeping track of your latest episode's analytics, you also have to keep straight all the minute details.

Ensure that your podcasts are well-received by adhering to technical standards for artwork and audio. Check out some of the podcasting platforms on which you want to ensure your podcasts are listed. If you're doing a podcast interview, a little prep time can save a lot of embarrassment.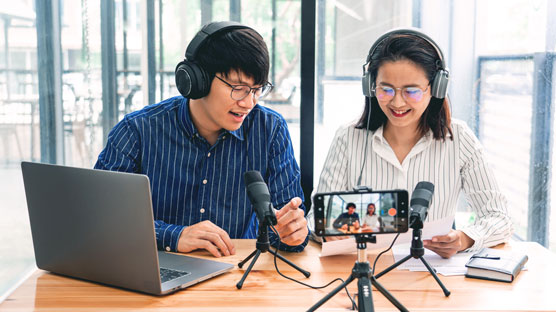 © Indypendenz / Shutterstock.com
How to listen to podcasts
You can listen to podcasts in a variety of ways, such as telling your digital assistant (for example, Siri, Amazon Echo, or Google Home) to play the latest episode. Or you may choose a more traditional route to load an app on your desktop or mobile device to subscribe and have the content automatically downloaded when it becomes available.
For podcast producers, get to know the places to get your podcast published. The following links connect you to thousands of podcasts:
Popular audio recording and editing software
A major component of creating podcasts is the software used to record and edit your audio. Following are several suggestions for both PC and Mac. Some are free while others are a bit more expensive.
Podcast platforms
With your media recorded, edited, tagged, and ready for distribution, you need an online location to offer your podcast. The platform could be your own blog and plug-in combo, or an all-in-one podcasting solution.
A podcasting platform is where you will want to turn when you are ready to launch your podcast and continue to produce and post episodes.
Tips for preparing for a podcast interview
Interviews are your opportunity to host amazing and interesting individuals. You are turning your show over to a guest who will have a platform to promote themselves, a charity, a special event, or something important to them. This unique opportunity introduces new voices to your podcast and expands the scope and reach of your show. When you open your show to guests, keep the following points in mind:
Know who you're talking to and what you want to talk about. It's a good idea to visit guests' websites and do research. You don't have to be an expert on their subject matter, but you should be familiar with it.
Follow a logical progression when asking questions.
Prepare twice the number of questions that you think you'll need. Then if your guest gives brief answers, you have a stockpile of questions to call upon.
Never worry about asking a stupid question. Chances are, your audience has never heard it answered.
Suggested settings to compress MP3 files
It's easy to create an mp3 file; but with so many options offered, what are the desired settings for compressed audio files?
Too much compression, and the audio is altered, usually compressed to a point where the listening experience is unpleasant. Too little compression, and your files take longer to load and stream.
When making an mp3 file, you want to strike a happy medium between data compression and audio quality:
Bit rate: 128 Kbps (best quality for both voice and music)
Sample rate: 44.100 kHz / 44,100 Hz
Joint Stereo
ID3 tags defined and implemented
You want to keep your podcast files organized. One of the best ways to make your files easy to sort and convenient for your listeners (so they know what's coming next) is to implement ID3 tags. By being consistent in applying ID3 tags, you ensure that your podcast appears in a player the way you want.
What do you put into ID3 tags? Here are the tags, both essential and optional, explained in podcasting terms and why they matter:
Name: The name or number of this particular podcast episode. For example, Technorama Ep 511: Adama's Beard.
Artist: Your name or the name of your podcasting team. For example, Chuck Tomasi and Kreg Steppe, Grammar Girl, Tee Morris.
Album: The name of your show. For example, Technorama, Happy Hour from the Tower, The Topic is Trek.
Track Number: (Optional) The sequential order of the podcast. For audio books released in chapters, the track numbers are chapter numbers.
Year: The year the episode was produced.
Composer (optional): Your engineer's name or the originators of the material. For example, in Tee's podcast, MOREVI's artist is listed as Tee Morris, but the composers are Tee Morris and Lisa Lee because the original work was cowritten.
Genre: We recommend Podcast for most, but choose accordingly and be consistent.
Comments: A quick two or three lines of show notes for your podcasts. This is similar to description in your blog post. It's a good idea to include your contact information here also.
Artwork parameters for podcast show art
After your show is edited and given ID3 tags, you will want to incorporate show art for the episode and upload show art for your podcast where directories and podcast apps can access it easily. Depending on the nature of your podcast, you may want to change your podcast season by season or show by show as you may want to change moods with each episode. On designing and posting show art, make certain your artwork meets the following criteria:
Minimum: 1400 × 1400 pixels, both in width and height
Maximum: 3000 × 3000 pixels, both in width and height
72 dpi resolution
8-bit channel, RGB Mode
JPEG (.jpg) or PNG (.png) format
About This Article
This article is from the book:
This article can be found in the category: