Assuming that you have set up your podcasting studio and are ready to record video, this article walks you through setting up a streaming account. The steps are Twitch-centric, but they are easily applied to other platforms like YouTube or Facebook.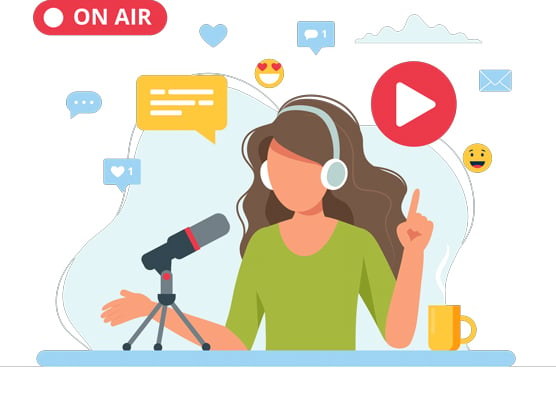 © Biscotto Design / Shutterstock.com
In a few minutes, you will be up and streaming content on Twitch:
Go to Twitch TV and from the top-right corner of your browser window select the Sign Up option.

You can still watch Twitch streams without being signed up with the platform. However, if you want to take advantage of the Chat features, you need an account.

Come up with a username for yourself on Twitch. Your username is how you will appear in Chat. Your username can be a nickname you go by, a play on words, or your own name. You can approach the username in a lot of different ways. Just make sure that you are not violating any Terms of Service when you create it.
Create a password or a passphrase and confirm it. While passwords should be difficult to crack but easy to remember, passphrases are now recommended by cybersecurity experts as upping the difficulty level for being hacked. More characters are involved in passphrases, and if you take something easy like "I am a podcaster" and rework it as "!am@p0dcasteR" for your password field as seen in the following figure, you have created a very strong password that meets many platforms' criteria.
Enter in your birthday. Again, the date you enter is based on an honor system, but the birthday is there to verify your age, which is within the Terms of Service (TOS) as established by Twitch.
Enter a valid email. This email is where all notifications and any news from Twitch are sent.
After reviewing the Terms of Service and the Privacy Policy, click on Sign Up to complete the application. Congratulations! Your Twitch account is now active.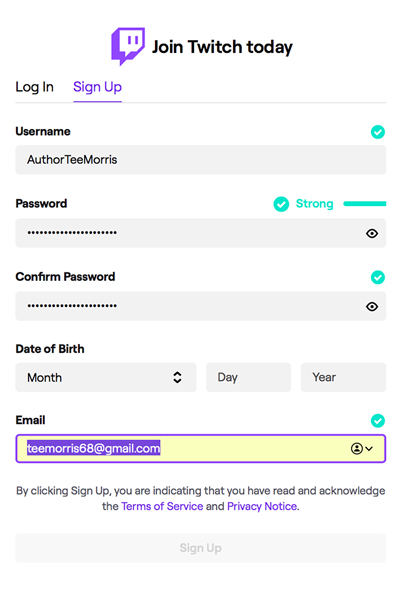 Setting up a Twitch channel takes only a few minutes and is free.
Technically, from here, you are ready to start streaming. You have a place on Twitch, but presently the state of your Twitch account is a lot like the state of a Twitter account newly launched where the profile and bio is blank. You will want to take some time to complete your profile and set up a channel with all the unique bells and whistles needed to make the best first impressions when people show up. (For details, see Twitch For Dummies.) With a basic account up and running, we recommend taking a tour of Twitch. Pay a visit to live streamers running your favorite video game, hosting an open chat session, or recording a podcast, to get an idea of this new platform.
About This Article
This article can be found in the category: