When you allow or block a program through the firewall on your Windows PC, you create a firewall rule. Windows presets a bunch of firewall rules, and some programs create rules when they're installed. To view the list of rules, follow these steps:
Tap the Windows key and type Windows Firewall.
Choose Windows Firewall Control Panel from the search results. The Windows Firewall window appears.
On the left side of the window, click the Advanced Settings link. The Windows Firewall with Advanced Security console appears.
The center part of the console window lists basic firewall actions. These actions say the same thing: Disallowed inbound or outbound connections are blocked. To see more specifics, choose a category such as Inbound Rules from the left side of the window, illustrated here.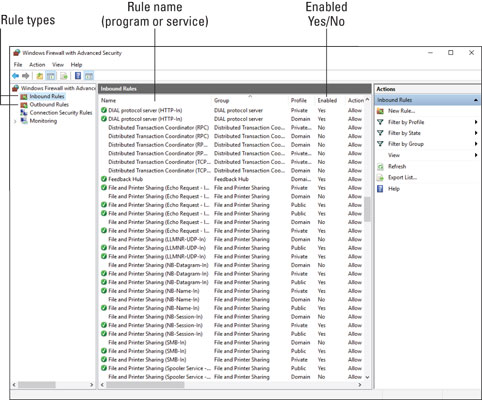 Firewall rules.
Each program or service features an inbound rule, outbound rule, or both. The rule can be enabled or disabled, or it can be deleted to remove the rule and have the firewall prompt again for access.
The details shown in the Windows Firewall with Advanced Security console are nerdy. Yet it's a useful location if you mistakenly allow a program and want to block it again: Select the program's rule and press the Delete key to remove it.
About This Article
This article is from the book:
This article can be found in the category: