For a full view of files and folders that are backed up on your PC, you can use the File History browser. You might find this file recovery method better than hunting down files and folders and right‐clicking on them. The File History browser window is shown here.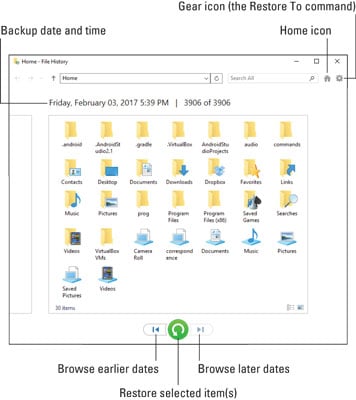 Browsing for files and folders to recover.
To visit the File History window, follow these directions:
Tap the Windows key.
Type File History
Choose the item Restore Your Files with File History. It probably won't be the top item in the search results.
This list of items you see in the File History window match those folders you selected for backup when File History was configured.

To restore an item, select it and then click the big green Restore button. As with restoring individual files, you'll be prompted about whether you want to replace the original file.

If you want to restore a file, folder, or group to a specific folder, click the Gear icon and choose the Restore To command. Select a folder for the backup files.

Use the left and right arrows to browse your file history. The backup date and time are shown at the top of the window.
About This Article
This article is from the book:
This article can be found in the category: