In Windows-speak, a desktop theme is simply a collection of settings that control the way Windows looks and sounds. When you choose a desktop theme in Windows 7, you could be changing the desktop background, the look of icons, and the Windows color scheme all at once.
To try one of Windows 7's built-in themes, right-click your desktop and choose Personalize. Windows 7 lists its token bundled themes, as well as an option to create your own. If you click any theme, Windows 7 tries it on immediately.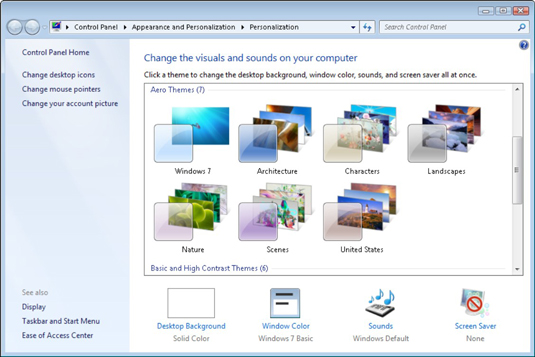 Choose a preconfigured theme to change how Windows looks and sounds.
The window offers the following types of themes, with options listed along the window's bottom.
My Themes: Themes you've personally created appear here.

Aero Themes: This category includes Windows 7's bundled themes, including its original one, meant for PCs with powerful graphics.

Basic and High Contrast Themes: These include high-contrast themes for the visually impaired and the old standby of the Windows Classic — a favorite with productivity hounds — which brings a retro-yet-super-speedy look and feel to Windows 7.
Instead of choosing from the preassembled themes, feel free to make your own. Just make your way through the various options and decide what you like best. Change the Desktop Background, Window Color, Sounds, and Screen Saver. After setting Windows just the way you like it, save your work by clicking Save Theme and typing a name.
Tired of Windows 7's built-in themes? Find dozens more by clicking the words Get More Themes Online in the My Themes section. You can find more themes from Microsoft, and also from a lot of third-party vendors.
Before you begin downloading themes from the Web or as e-mail attachments, be sure that you're using an updated antivirus program. Viruses sometimes masquerade as themes.
About This Article
This article is from the book:
This article can be found in the category: