Basic Arduino sketches can get you quite a long way, but when you become more advanced you need to know about libraries. Libraries provide extra functionality to your Arduino sketch, either to use specific hardware or to incorporate more complex functions in software. In the same way that you'd go to a physical library to learn something new, you include libraries in your code to teach your Arduino something new. By including a library in a sketch, you can quickly and easily access functions to help you achieve your goals.

Getting started with complex hardware or software can be difficult. Luckily, a lot of people have taken the time to document their progress and have released libraries, often with examples, that you can easily integrate into your own Arduino sketches. From this, it's possible to get something working and gain a better understanding of it. This learn-by-doing approach of Arduino allows you to make a lot of progress quickly and easily with hardware or software that would otherwise be a huge challenge.
Standard Arduino libraries
Standard Arduino libraries refers to a selection of the libraries included in the current release of Arduino at the time of writing (1.8.5). The standard libraries cover a wide range of subject areas and are usually popular topics that have been heavily documented. You can find these libraries by choosing Sketch →   Include Library →   Manage Libraries.

Choosing a library includes one line at the top of your current sketch, such as #include <EEPROM.h>. Before you attempt to understand a library, you should try an example of it. You'll find examples at the bottom of the menu that appears at when you choose File →   Examples.

Here is a brief description of what each Arduino library does:
Additional Arduino libraries
Many libraries aren't included in the Arduino software by default. Some libraries are for unique applications such as specific hardware or functions; others are refinements or adaptations of existing libraries. Luckily, Arduino makes including these easy, so you can quickly try them all to see which are right for your needs.

Most libraries are easily installed by choosing Sketch →   Include Library →   Manage Libraries from the Arduino IDE menu. The Library Manager dialog box displays an easily searchable list of libraries submitted to the Arduino servers and approved for release.

Libraries may also be distributed as ZIP files that have the same name as the library; for example, the capacitive sensing library CapSense should be distributed as CapSense.zip and should contain a folder of the same name when unzipped.

Inside the folder there are files ending in .h and .cpp, such as CapPin.h and CapPin.cpp, and maybe even an Examples folder. If your .zip file contains only loose .h and .cpp files, you should place them in a folder with a library name. Sometimes you may find many .h and .cpp files that all perform different functions in the library, so make sure they're all inside the folder.

In the latest release of Arduino (1.8.5 at the time of this writing), it's easy to include libraries distributed as ZIP files. Simply choose Sketch →   Include Library →   Add .ZIP Library and select the ZIP file containing the library.

After the library is installed, restart Arduino and choose Sketch →   Include Library to check that your library is in the list.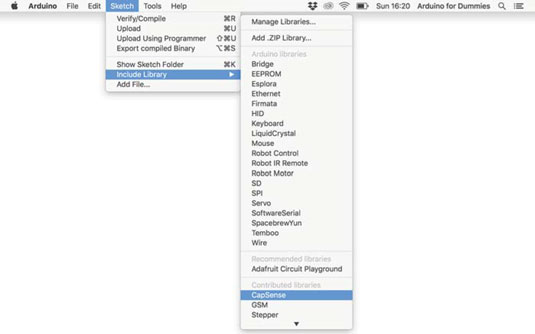 The Arduino menu shows the library in the Import Library drop-down list.
If the library has an Examples folder, you should also be able to see the examples by choosing File →   Examples and then choosing the name of the library.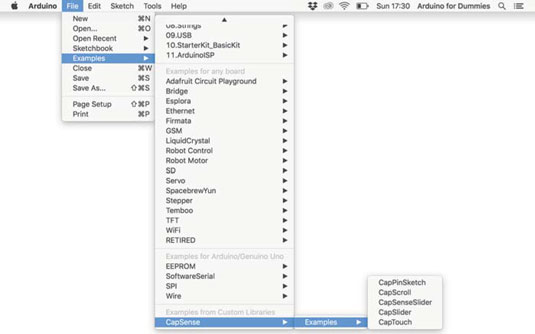 If there are examples with the library, you'll see them in the menu.
That's all there is to installing a library. Removing a library is as simple: just take the library folder out of the Arduino Sketch folder.
Contributed Arduino libraries
A long list of community-contributed libraries appears on the Arduino libraries page and an exhaustive list appears on the Arduino Playground.

To become familiar with contributed libraries, start with CapSense and TimerOne, two commonly used and helpful libraries:
CapSense: The CapSense library allows you to make one or many pins on your Arduino into capacitive sensors. This feature allows you to make simple touch, pressure, or presence detection sensors quickly and easily with little hardware.
The Arduino Playground page has a lot of useful information, but a more recent version of the code can be found on GitHub.
TimerOne: TimerOne (also called Timer1) uses a hardware timer on your Arduino to perform timed events at regular intervals. It's a great library for reading sensor data regularly without interrupting what's going on in the main loop. You can find a TimerOne page on the Arduino Playground and an up-to-date version of the library on Google Code.
If you're keen to understand libraries more and maybe even write your own, check out the introduction to writing your own libraries on the Arduino GitHub page.
About This Article
This article is from the book:
This article can be found in the category: