Aspiring Airbnb hosts will quickly discover that when attempting to estimate their Airbnb revenue and profit potential, where they gather the relevant information can have a big impact on their calculations.

Looking at broad national averages can give you a rough sense of how an average host is performing, but it may tell you very little about what you could expect in your specific market with your property. To get an accurate gauge, you need to gather the right kind of information and make sure they're directly applicable to your situation. The following sections explain the basics.
Starting with national averages
When Earnest.com, a student and private loan refinance provider, analyzed tens of thousands of loan applications from applicants who reported earnings from working on sharing economy platforms like Airbnb, they found the average Airbnb host earned approximately $924 per month from hosting.

However, because a small fraction of hosts earned disproportionately higher income than their peers, the median earning for hosts was much lower. The following figure shows that only half of Airbnb hosts earned more than $440 per month (approximately $5,280 per year).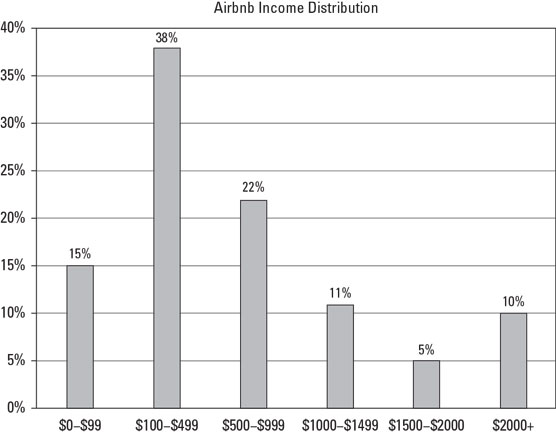 How much Airbnb hosts earn
According to Earnest.com, about one in two Airbnb hosts earns less than $500 per month and nearly three in every four earns less than $1,000 per month. Only one in ten hosts will earn $2,000 or more per month.
Your location mostly determines your Airbnb profit potential
The profit potential of your Airbnb listing is primarily determined by the property's exact location. That is, how much you could expect to make from your Airbnb is mostly out of your control and can't be changed after your listing goes live on the platform.

So, asking yourself questions like, "How much should my one-bedroom Airbnb listing earn?" doesn't help. Even if you're asking within the boundaries of your specific city, listings that are a minute walk from each other can experience significantly different levels of Airbnb travel demand.

Some markets have very high Airbnb travel demand with a limited supply leading to high occupancy rates and high nightly rates. For example, a one-bedroom entire apartment listing in downtown Los Angeles, located immediately across the street from the Los Angeles convention center and walking distance to the Staples Center where the L.A. Lakers and Clippers basketball teams play their home games, will significantly outperform an identical listing only two blocks away. This figure compares two properties and looks at how a three-minute walk could potentially impact your earning potential.

Two blocks away, a world of a difference
Just two blocks away, these two near identical Airbnb listings could see nearly a $1,000 a month difference (or almost $12,000 for the full year). Airbnb travel can become hyper local in some markets, especially if travelers care about immediate walking distance to point of interest.
In other words, the performance of Airbnb listings can vary drastically even across a short distance because of the high variability of demand across markets, which is more pronounced in dense urban markets. In more spread-out rural markets, the radius of a local market is larger.
The demand for Airbnb rentals in your specific market, whether it's a one-block radius in a downtown area or a five-mile radius in an open rural area, determines the profit potential of your Airbnb listing. However, just because you could expect to earn a certain profit doesn't mean you'll automatically achieve it. You still must earn it by being a great host.
About This Article
This article is from the book:
This article can be found in the category: