We asked the thousands of hosts through our blog and online courses, "What was the best purchase you've made as an Airbnb host?" Some were obvious, and some were surprising. Here are ten that you should consider when hosting on Airbnb.
Futon couch or sofa bed
If you have enough space for a traditional couch, you'll likely have enough space for a sofa bed or futon couch instead, which increases your Airbnb listing's occupancy capacity to sleep an additional guest and permanently increase your earning potential. Be sure to provide a quality set of pillows, linens, and a bed topper to improve the comfort of these notoriously uncomfortable sleeping options.

Don't overdo it by adding a sofa bed in every common area or turning every bed into a bunk bed just to add capacity. Local fire codes still apply. Be sure to check with your city to determine the maximum allowable occupancy for your listing.
Floor mats for every entrance
For those hosting near the beach or the outdoors, guests can bring in a lot of sand and dirt, making for a longer and more difficult cleaning during turnarounds. Just by having floor mats at every entrance can encourage guests to wipe their shoes before entering. Adding fun messages like "Please wipe paws before entering" with paw prints can serve as gentle reminders for the guests.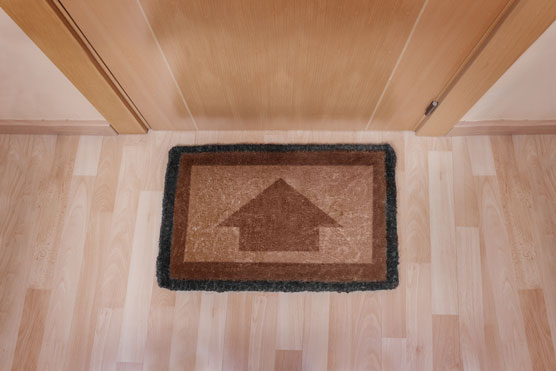 ©OSORIOartist/Shutterstock.com
Shoe racks
To decrease the amount of dirt and grime from getting inside the house and on the furniture, invest in a shoe rack for guests. A conspicuously placed shoe rack inside the main entrance offers an easy and accessible way for guests to take off and store their dirty shoes. Put another one in the backyard or offer slippers and sandals guests can use outside.
Universal phone chargers for every room
Assume your guests will travel with their smart phones and devices. Most will bring their own chargers, but many will occasionally forget to pack them. To save your guests the hassle and headache of going to a store, keep a set of universal all-in-one charger and cable in each bedroom available for guests to use. Even if they do bring their own cables, the extra option comes in handy when charging multiple devices at the same time. An alternative is to include USB plug adapters in each room, allowing for easy USB usage in addition to being a regular plugin.

If you're in a location that attracts a good number of international guests, we also suggest you invest in an international converter plug.
Large capacity appliances
If you must buy a new dishwasher or washer and dryer combo anyway, opt for the largest capacity unit you can afford and that can fit in your unit. The one-time extra cost more than pays for the continuous savings in fewer loads and washes, resulting in lower utility bills and faster, less stressful turnaround times between guests.
Storage lockers with locks
Flights can get delayed. Rides can get stuck in traffic. Plans can change. As you host more guests, you'll receive requests from guests to check in earlier or check out later. Accommodating the requests can lead to rushed turnarounds, but simply refusing when guests are in need can lead to a bad start or ending to their stay. Having storage lockers that are large enough to stow large luggage bags paired with combination locks can fix the problem; it allows guests to put their luggage in a safe place while they move about town before the unit is ready or before they need to head to the airport for their delayed flight. If you are a host who resides on the property or nearby, you can offer to keep the luggage until the guests can pick it up later that day.
High quality mattress and linens
Investing a little extra upfront on a comfortable mattress and the softer, higher thread count bedsheets and pillow cases can lead to better sleep experiences for the guests. Well-rested guests equal happy guests. And happy guests mean happy guest ratings. Scroll through the raving reviews from the most popular listings or the scathing reviews of the struggling listings in any city to read about a "super comfy bed" or "the worst sleep ever."
Smart locks
Most guests prefer the ease of checking in themselves whenever they show up, whether at the designated check-in time or late in the evening. One of the best ways to do is by using a smart lock that allows the host to remotely change the access codes, for example, to the last four digits of the guest's phone number. It's more convenient and less stressful for both host and guest.
Automation tools
Hosting a profitable listing on Airbnb doesn't work with a "set it and forget it" strategy. It requires continuous monitoring and updating of prices and availability for your listing and timely communications with potential guests. Even though you can do this manually, you'll get better results with less stress by using automation tools to automate your pricing, most of your guest communications, and scheduling. Explore the many choices available, test some out through free trials, and then choose one. The small nominal fee often pays back many folds.
Better coffee options
Many guests enjoy coffee, and although most hosts now provide some options to make coffee, most aren't taking advantage of an easy way to wow their guests. Instead of just providing a coffee pot and stale store-bought pre-ground coffee beans, provide some alternatives like whole roasted beans with a hand grinder for a pour over or a French press to show the coffee-addicted guests you're looking out for them. Be sure to showcase it in your descriptions and photos. All things equal, the coffee-drinking travelers will choose your listing over your competition for better coffee.

Not all guests are coffee aficionados. For the tea lovers, keep a couple of options available in case they want a cup. Another favorite to have on hand are hot chocolate options.
About This Article
This article is from the book:
This article can be found in the category: