To create a smooth and seamless check-in for your Airbnb guests, you must first understand what guests want and don't want to experience during their check-ins. Only then can you make the necessary preparations for a smooth and painless check-in for all of your guests.

Just as you were responsive and timely in your communications with prospective guests before they made their bookings, you must communicate with your guests after they book and before they check in. In this section, we discuss the ins and outs of communicating check-in details with your guests.
Sending messages to guests before check-in
A common mistake we see rookie hosts make is sending too much information too soon. No guest wants to read a whole essay in your booking confirmation message, especially if they're weeks or months from their trip. Keep it on a need-to-know basis in the booking confirmation message.

Aside from responding to questions from guests before their arrival, here are the two messages that you must send to all guests and what to include in each:
Welcome message
Send a warm welcoming message to all your guests after they complete a booking with you to thank them and confirm their reservation with you. Because guests are often booking their trips weeks in advance, you don't need to share too much information at this point.

Here's the formula for a solid welcome message:
Keep it casual. Start with a "Hi" or "Hey" instead of a cold and informal greeting like "To Whom It May Concern." Guests choosing to book their stays on Airbnb instead of hotels are seeking a more relaxed and casual stay experience.
Thank them for choosing you. Show a little appreciation to your guests. They didn't have to book with you. They could have chosen any of the other alternatives in your area.
Tell them what you'll tell them: Even though Airbnb has many more repeat travelers, the platform is still adding many new travelers who are booking their first Airbnb stay and don't know what to expect. With your welcome message, you can tell them. Let them know you'll send important check-in instructions and other details when it's closer to their arrival.
Welcome questions: By letting them know that they can reach out to you in the meantime if they have questions, you'll help reduce potential anxiety, particularly if they're new to Airbnb.
The following figure is a simple template for the welcome message you can send to all of your guests. Note that you don't need to follow it verbatim. Adjust as necessary to fit your personality and tone. Just keep it short and simple.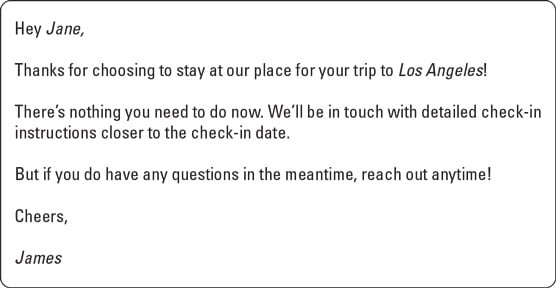 Welcome message template
Check-in instructions message
The message you send with the check-in instructions is the most important message you send to your guests. Done correctly, it can prevent many headaches for you and your guests. Done poorly, it can create unnecessary stress for you and your guests.

Share check-in information prior to your guests departing for their travels — so, typically, the day before check-in. Some Airbnb hosts choose to send check-in information to guests the morning of check-in to avoid the rare scenario of having unwanted early arrivals while another guest is still in the unit. But sending check-in information the day of just causes unnecessary stress and anxiety for their guests. For example, international travelers may not have data access until arrival and thus will worry about checking in during their travels. Eliminate their stress by getting the information to them before their departures.

However, for hosts remotely resetting access codes for each guest using smart locks or those who change their lockbox combinations between each guest, they can and should send check-in information 48 hours before check-in. Doing so gives guests, especially international travelers, ample time to process the information and plan accordingly before their hectic travels.

Here are the minimum details to include in your check-in instructions message:
Confirmation of booking details: Your guests may have multiple future Airbnb reservations so reminding them of the date and address of their reservation is useful.
Check-in time: Include the time and a short message on why you can't accommodate early check-ins if they've requested one.
Directions to your property: Include detailed instructions to your property from airports, train stations, or other transit stops. Include any special instructions for parts of the commute that could confuse most guests or their drivers.
Parking instructions: Even if you have obvious parking options on premises, lay out the instructions in your message. For anything else, be as specific as possible with location, payment, and restrictions if any.
Check-in instructions: Here, include all relevant details and steps guests needed to gain access to your property. Start from where they'll park their car or get dropped off.
Wi-Fi details: Include them here and let your guests know they can access it outside if needed. Include network name and password that matches your Airbnb listing title. For example, instead of using generic network names that come with the router, such as "LinkSys1283," you can have "Jane's Downtown City Loft."
Your contact information: Include both an email address that you check frequently and a direct phone number that your guests can text.
Additional questions: We recommend asking guests for their flight number and their intended check-in time, especially for hosts doing in-person check-ins; this info allows you to check if their flight is delayed and to avoid finding yourself waiting for your guests to arrive while they're stuck on a delayed flight unable to notify you.
The following figure is a check-in instructions message template you can use as a starting point for yours. Replace sample information with yours and adjust as necessary.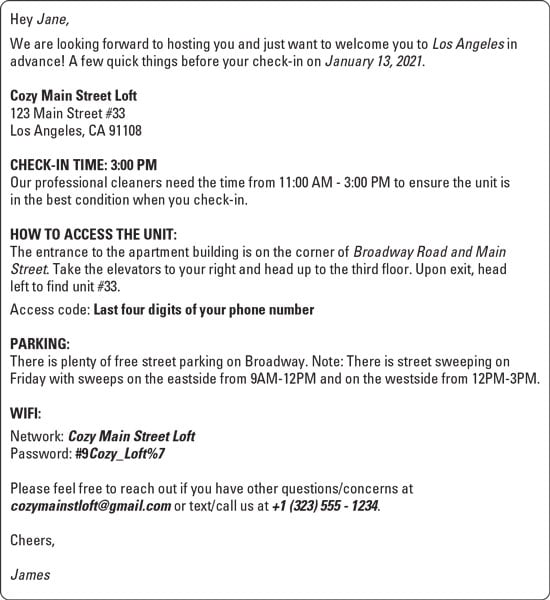 Check-in instructions message template
As an added resource for our readers, we provide additional templates for other common messages you should prepare in advance. Go to our online resources page at learnbnb.com to locate the message templates you can download and adjust to your needs.
Preventing potential issues before check-in
To best identify potential issues that may arise before your guests check in, ask yourself, "What hurdles can I eliminate or minimize to help my guest get from the airport (or from wherever they're coming) to my door and into my unit?"

Thinking of everything possible can help you anticipate and mitigate potential issues for your guests. Here are some common issues that frequently frustrate Airbnb travelers before their check-in and what you can do as their host to help:
Going off the wrong address: Although rare, but it does happen. For hosts who manage multiple listings in the same area with similar addresses, they can easily mix things up in their communications with guests. Double-check the full address before sending it in any guest messages.
Navigation maps to wrong location: A bad way to start off with your guests is for them to arrive at the location on the map using the address you provided, only to discover they're not at the right location. Many navigation tools rely on Google Maps, so ensuring that Google has correctly marked your property on its maps can prevent this problem for practically all guests. Search your address on Google Maps and check that the red map marker is in the right location. If the red marker is marking your property at a different location instead, find the "Report a problem on [YOUR ADDRESS]" option on the screen and report the issue to have it fixed.
Difficulty in finding the property: Guests can be frustrated thinking they can finally check in and relax after their long day of travel to find themselves lugging heavy bags around unable to find their Airbnb instead. If your property isn't immediately visible upon parking or a taxi drop-off, provide detailed instructions for your guests.
Unclear building instructions: If your property is in a multi-floor building, provide specific details to avoid any confusion due to different floor conventions used around the world. For example, in North America, the ground floor is the first floor whereas in Europe, the ground floor is floor level zero. Provide information such as, "After entering the main door, go up two flights of stairs and then turn left."
Unexpected road closures: Whether because of weather, construction, or even a parade, road, or public transit closures near the property or anywhere that affects their commute to the property could cause stressful delays. If you know of any closures or delays in advance, be sure to notify your guests and recommend alternative routes or solutions in the check-in instructions message so they can plan accordingly.
Access code or keys not working: Even though we recommend that you use smart locks to simplify the check-in process, technology can malfunction. Having a backup solution is crucial in preventing an angry guest during check-in. Keep a spare manual key with a trusted neighbor or in a nearby lockbox that you can have the guest access. Along with the spare key, include a small token of apology for their inconvenience, such as a $10 Starbucks card.
Unable to reach the host: Having trouble checking in is frustrating enough. Not being able to reach the host on top of having trouble checking in is a recipe for an angry guest and a low rating. Be sure you don't accidentally set your phone on silent that day, but especially in the three hours before and after their scheduled check-in when issues are most likely to arise.
Putting in the extra effort to help your guests from the moment they arrive in your city or town until they get inside your property can help them avoid unnecessary headaches before they check-in. Frequent travelers will notice and appreciate your effort.
About This Article
This article is from the book:
This article can be found in the category: