When you are approaching the end of your fantasy football season, if it has gone well, you may be in contention to make the playoffs. If that's the case, congratulations! Bragging rights are what this game is all about, and you are one step closer to achieving the ultimate prize.

If not, don't feel bad. There's always next year, and most leagues include a consolation playoff so you can at least one up a few of your friends or co-workers — even if your season didn't go as planned. No matter how your season ended, you need to know how fantasy football playoffs work, so you can pursue a league championship.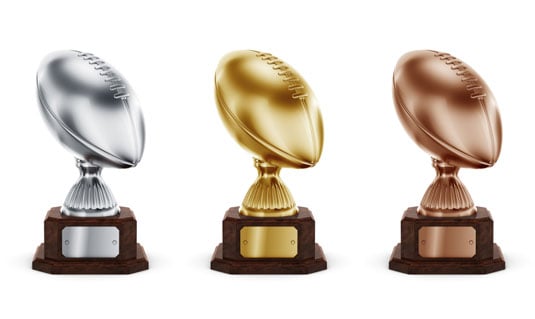 Credit: ©iStockphoto.com/zentilia
Fantasy football playoff trophies await league winners.
Fantasy football playoff rules and structure
Generally, the teams with the best records will make the playoffs. In some leagues with divisions, that may not be the case. In leagues without divisions, the teams with the best records will advance to the playoffs.

Leagues that include divisions will usually have two or three divisions and operate like the NFL to determine which teams make the playoffs. The team with the best record in the division will advance, even if it doesn't have one of the best overall records league-wide.

In leagues with divisions, there will usually be one or two wildcard teams that will earn their positions from win/loss records among the rest of the non-division winners. Division winners always have a higher seed than wild card teams.

The team with the best record will be the 1st seed in the playoffs. If your league has divisions, this team would have, coincidentally, won its division as well. Another divisional winner with the next best record will be the 2nd seed, and so on. If your league does not have divisions, the remaining seeds will be determined by overall win/loss records.

In the event that two or more teams have identical win/loss records at the end of the fantasy football regular season, a tie-breaking system will determine their position. Most leagues use a standard tie-breaking system, and it goes as follows:
Overall points scored

Head-to-head record

Division record

Overall points against

Coin flip
Fantasy football playoff formats
In a standard league, four teams will make the playoffs. In this case, the 1st seed will play the 4th seed, and the 2nd seed will play the 3rd seed. The winners of these two matchups will go on to the next week to play for the league championship; the losers will play for 3rd place.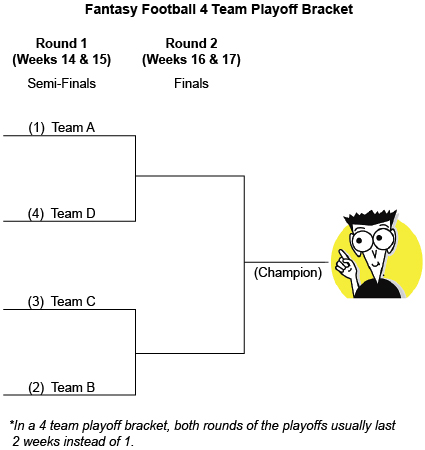 In some deeper leagues with 12 or more teams, 6 teams can make the playoffs, introducing the need for bye weeks. Bye weeks act similar to the NFL playoff bye weeks. The 1st and 2nd seeded teams will not have to play the 1st round; instead they automatically advance to the 2nd round and will play the winners of the 1st round.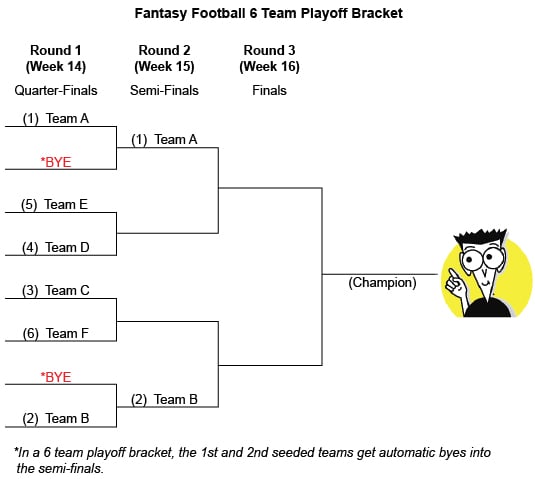 The consolation playoffs work similar to the regular playoffs in seeding and bracket style.
In most leagues, the fantasy playoffs will begin week 13 or 14 of the NFL season. Standard leagues (four team playoffs) will use the following two weeks for the playoffs, and larger leagues with six teams may continue playing all the way through week 17.
However, most leagues omit week 17 (and some even week 16) to prevent unfair play from NFL teams resting players for their real playoffs. Nobody wants to have their playoffs ruined by a resting player. For example, if Peyton Manning is on your team and has dominated the entire season, your fantasy football championship can be decided by having to scramble for a backup quarterback (QB) because Manning is resting during week 17.
To best prepare for the fantasy football playoffs, be sure to read your league rules to understand how the playoffs are set up. Ask your commissioner if you have any questions such as the number of teams that can qualify, the playoff schedule, rules around wavier picks and trading, and so on.
Strategies for winning fantasy football playoffs
If you have made the playoffs, you will need to continue to monitor and adjust your lineup carefully if you want to win your league's championship. Weekly matchups, weather, and players on teams actually fighting for real playoff spots (or not) should be considered now more than ever.

Late in the season, teams that play in the north will be playing in the cold and perhaps snow so certain positions should be chosen with caution. Games played with precipitation and/or extreme cold favor the running game, whereas games played in good weather or domes generally favor passing and kicking. Some players thrive in bad weather, though, so an in-depth knowledge of your own players will prove to be an advantage either way.

You'll also want to familiarize yourself with your league's playoff rules if you haven't already. Many league's final trade deadlines are during this week, and it could be your last chance to really strengthen up your roster for a championship run. You could also try picking up free-agent players you think your opponent may want, to prevent them from filling holes in their lineup that may arise come playoff time.

Finally, just continue to do what got yourself in this position. Don't overthink your decisions and just continue with the players that got you here, barring injury or other player circumstance.

If you need to make starting roster adjustments, hopefully you have made good moves throughout the season and have viable bench players to replace any player that is inactive or consistently infective. Roster depth cannot be underestimated come playoff time so you should be actively trying to improve your team the entire season.
About This Article
This article is from the book:
This article can be found in the category: