Football has wedged itself into the American culture, but it can be an intimidating sport to follow if you don't know much about it. The widespread popularity of the sport has made many afraid to ask questions about football basics. Not to worry; here are the answers to a few questions you may be too afraid to ask your friends or family about football.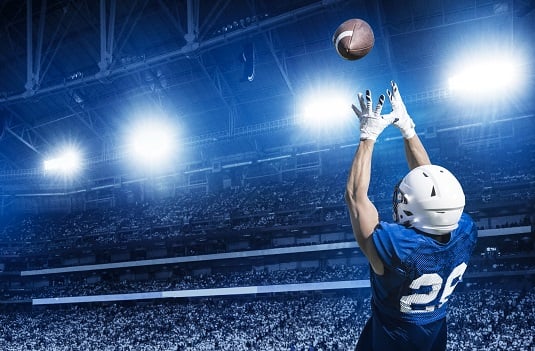 © Shutterstock/Brocreative
How big is a football field?
Football fields are 100 yards long and 53 1/3 yards wide. Each end zone is 10 yards deep. Consequently, all football games are played on a rectangular field that's 360 feet long and 160 feet wide.
How many players are on the field in football?
Each football team has 11 players per side: 11 on offense and 11 on defense. Football teams are allowed to play with fewer than 11 players (why would they want to do that?), but they're penalized for having more than 11 players on the field during play.
How do you score points in football?
There are five ways to score points in football:
A touchdown is awarded six points.
An extra point, also known as a point after touchdown (PAT), is awarded one point.
A two-point conversion, attempted after a touchdown, is awarded two points.
A field goal is awarded three points.
A safety scores two points (for the defensive team).
What is a safety in football?
A safety, worth two points, is scored by the defense when they tackle an offensive player in possession of the football in their own end zone.
What is targeting in football?
Targeting is when a football player lowers his head and uses the crown of his helmet when tackling a defenseless receiver, running back, or quarterback in the head or neck area. College football has strict rules on this 15-yard penalty. The game officials use replay officials in order to consider intent, and if replay shows the defender struck the offensive player in the head or neck area, it results in an automatic ejection of the football player who commits the foul.
What is a blitz in football?
A blitz is a defensive strategy in football where a linebacker or defensive back vacates his customary position or responsibility in order to tackle the quarterback behind the line of scrimmage (also known as a sack) or force the quarterback to hurry his pass. (Prior to World War II, this defensive strategy was called a red-dog, but the name was changed to blitz after the German Army's blitzkrieg tactics.)
What is a "hail Mary" in football?
A hail Mary is when the quarterback, usually in desperation at the end of a football game, throws a long pass without targeting a receiver with the hope that a receiver will catch the ball and score a touchdown.
Why is Super Bowl Sunday such a big deal?
The main reason Super Bowl Sunday is so popular is that pro football is the only major professional team sport with a single-elimination playoff system. Other major sports declare their champions after a team wins four games in a best-of-seven series.
And it isn't just the game itself that attracts viewers. Watching the big game to see the commercials has become a part of what makes Super Bowl Sunday so special.
Is a football really made of pigskin?
It may be referred to as a pigskin, but, don't worry, footballs today are actually made from cowhide.
Why are footballs called a pigskin?
Footballs resemble a toughened pig's skin, and in the game's early days, they were swollen like a chubby little piggy.
Where are the best seats in a football stadium?
The really good seats in every football stadium are near the 50-yard line, 25 rows up, where you can scan the entire field. The end zone can also be a good place to watch a game.
Which NFL stadium is the best?
There's no better setting in pro football than Lambeau Field in Green Bay, Wisconsin. With its circular seating and lack of an upper deck, Lambeau is a fan-friendly stadium. Every seat offers a good view of the action. Lambeau is also a player-friendly stadium. To improve their field in freezing conditions, the Packers installed SportGrass in 1997. The old field, by the way, was packed into "Frozen Tundra" boxes and sold to fans to help pay for the new field.
Which is a better field in football; natural grass or artificial turf?
There's no question that natural grass is the best surface for football on any level from Pop Warner to the NFL.
Natural grass is green, soft, and beautiful, but it needs to be mowed, watered, and replaced (after all, football cleats can rip up turf).
Artificial surfaces are made from synthetic nylon fibers that resemble very short blades of grass or tightly woven fibers that give the feel of a cushioned carpet. They are cheaper to maintain, but you may notice that many football players wear elastic sleeves to protect them from turf burns.
How do football coaches decide whether to kick or attempt a two-point conversion after a touchdown?
Coaches have a universal chart that tells them when to kick and when to attempt a two-point conversion. They like the chart because they dislike being second-guessed by football players and the media for making the wrong choice. Here's what the chart says:
If you're behind by 2, 5, 9, 12, or 16 points, attempt a two-point conversion.
If you're ahead by 1, 4, 5, 12, 15, or 19 points, attempt a two-point conversion.
If you're behind by 1, 4, or 11 points, you have to make the dreaded judgment call—it can go either way.
Why does the NFL have a salary cap?
The salary cap was designed to put all the NFL teams on equal footing when competing for free agents and signing their number-one draft choices. The cap is based on football players receiving a certain percentage of the defined gross revenues of the NFL teams, which include revenue from network television contracts, ticket sales, and product sales.
The salary cap for the 2019 season is $188.2 million, a 40-percent increase from the 2014 salary cap.
Why do professional football players make so much money?
Salaries in the NFL have risen dramatically since the late 1980s. In 1988, the average salary of an NFL player was $250,000. It jumped to almost $800,000 in 1997, to $1.5 million in 2005, and to $1.9 million in 2014. These increases came about because of the financial impact of the league's television contract, which in the years 2006 to 2011 amounted to $3.1 billion per year (the largest portion of a team's revenue).
Can they use just any football for game day?
Of course not! In the NFL, the football must be a Wilson brand, bearing the signature of league commissioner Roger Goodell. It must weigh between 14 and 15 ounces, inflated to between 12-1⁄2 and 13-1⁄2 pounds of air pressure.
How big are football players?
Well, it depends on the position. On average, football players range in weight from 150 to 360 pounds and in height from 5'5" to 6'9" tall.
The ideal quarterback is six feet five inches tall and weighs 225 pounds.
The ideal linebacker is at least six feet three inches tall and weighs 240 pounds (the bigger and taller, the better).
The ideal cornerback is at least six feet tall and weighs between 180 and 190 pounds (and can run the 40-yard dash in 4.4 seconds).
Why do I see so many coaches on the sidelines in a football game?
Almost every football team has more than one coach. Some football teams have two coaches monitoring special teams: One coach handles the punter and placekicker, and the other coach handles coverages and kick protection. The typical NFL team averages 20 assistant coaches.
What is the most common penalty in football?
Holding is the most common football penalty called against the offense when it's attempting to pass.
What are the harshest penalties in football?
Some penalties cost 15 yards—the stiffest penalty there is (other than ejection or pass interference). Here are just a few of the actions that will earn this penalty and, sometimes, an automatic first down:
A tackler using his helmet to butt, spear, or ram an opponent.
When a tackler twists, turns, or pulls an opponent by the face mask.
A punter, placekicker, or holder simulates being roughed by a defensive player.
When the captains for either team fail to show up (or fail to show up in uniform) in the center of the field for the coin toss three minutes prior to the start of the football game.
What does "unnecessary roughness" mean in football?
It's a 15-yard penalty that has several variations. Examples include tackling the ball carrier when he's clearly out of bounds or throwing the ball carrier to the ground after an official has blown the whistle.
Why do some football players wear towels?
Quarterbacks and wide receivers often wear towels to wipe their hands clean of mud and moisture between plays. Towels can be only eight inches long and six inches wide and must be tucked into the front waist of the pants.
Who is the Heisman Trophy named for?
John W. Heisman, a Brown University (and later University of Pennsylvania) player. Heisman was also a member of New York's Downtown Athletic Club, where the award was presented every December until the building was damaged in the September 11, 2001, terrorist attacks.
Why do some football teams wear throwback jerseys?
In 1994, to mark the 75th anniversary of the NFL, the league started permitting teams to wear throwback jerseys. A few teams (the Indianapolis Colts, New Orleans Saints, and Cleveland Browns) have worn the same uniforms (check out the NFL uniform codes for more information), more or less, from the beginning.
Why don't we see drop kicks much anymore in football?
Current rules still allow drop-kicking, but the football's tapered design stops most players from trying it. The last successful drop kick in the NFL occurred on January 1, 2006, when Doug Flutie drop-kicked an extra point in the final game of his career. Prior to that, no one in the NFL had succeeded in making a drop-kick since the 1941 championship game.
About This Article
This article is from the book:
This article can be found in the category: