If you are interested in joining a fantasy sports team, and your sport of choice is basketball, then the first thing you will need to understand is how to properly score your players at the end of each game. Three factors determine how you will score your players: league format, player allowance, and what scoring system your league uses.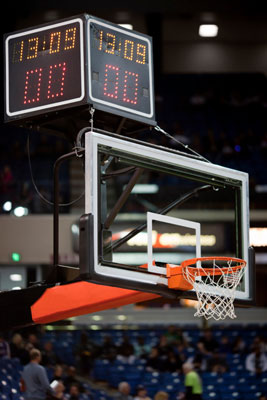 Credit: ©iStockphoto.com/slobo
Fantasy basketball scoring determined by league format
The league format determines what categories are being scored and what players are eligible to be used in each of the categories. For example, your league might score on only four categories: assists, blocks, steals, and turnovers. You then would check each of your players to determine whether they qualify for each of those categories.
If the player has some form of stat in each category, the stat then is compared to the previous game's stat or player's average stat and decided to be either positive or negative. If the stat is determined a positive one, the player receives the point or win for that category and vice versa for players who receive a negative stat.
You can always contact your league commissioner(s) (person(s) who created the league) to ask what format your league uses.
If you are considering a league that does daily scoring and rotations, keep in mind that each team plays 3–4 times a week, and this can be quite time consuming. Try talking your league into adapting rules that are more in the realm of fantasy football in which you would score and rotate players weekly instead of daily.
Fantasy basketball scoring determined by player allowance
Some leagues use the standard 15-player per team format, and others use 12 or fewer to keep things more simplified. If your team uses the standard format, then you need to follow each player in all categories your league scores on. If your team uses fewer players, you need to check with the league rules to see whether they dictate that only one player be scored in each category and so on.
For example, if your league allows a 12-player roster and scores on four categories, with the stipulation that only one player can be scored in each category, then 4 players will be active in each game. The remaining 8 players will be included in your player pool from which you choose when performing the daily or weekly player rotation.
Fantasy basketball scoring determined by scoring type
The most important of all the scoring factors is the scoring type your league uses:
Win/Loss

In a win/loss league, you score your players in each category with a win or loss for that category. Then add up all the wins and losses at the end of the season and compare each team's win/loss record.

To determine whether a player gets a win for the category, you compare that player's stats for the day to either his average or to the previous game's stats. If the player does better than the predetermined stat, he gets the win point.

In a couple variations on win/loss, you can either tally all categories and use all totals at the end of the season, or a more popular way is to tally all the categories at the end of the game day or week and if the wins outnumber the losses, you get 1 win for the day. At the end of the season the wins and losses are still added up, and the person with the best win/loss record takes the win.

Point System

With the point system, essentially the scoring is done in the same manner. You score the player in each applicable category; however, some categories are worth more than others. At the end of the season, you then total your points, and the person with the highest point value wins that league's season.
Categories that are worth more than others are often based on stats that are rarer for players to get scored on such as 3-pointers and blocks.
Remember to check with your league members or commissioner to know exactly what rules are in place so you know how to score your players efficiently and accordingly.
About This Article
This article can be found in the category: