Renting presents a great opportunity to try the RV experience before you buy into it fully. Trying different styles of RVs by renting them first has the potential to help you make the best purchase decision if you're on a path to buy one. Renting an RV every summer for vacation is another alternative to buying; you get all the benefits of going on vacation in an RV without the added responsibilities of ownership.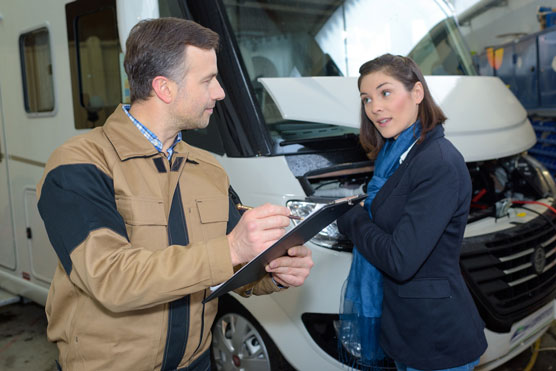 ©ALPA PROD/Shutterstock.com
When to rent
If you don't own an RV, you need to rent or buy one for your trip. How do you decide which to do? In the following circumstances, renting an RV makes more sense when
You're setting out on your first RV journey.
You're thinking about replacing your current RV with a different type.
Your family takes a two-week vacation every year and wants to do so in an RV. That way, you can test-drive different models each year, and when the time comes to buy, you'll know what you want.
You want to travel for several weeks in a location far from home. Fly-and-drive packages are available from several rental companies.
You want to drive a rough or rugged stretch of road without subjecting your own RV to wear and tear.
You want to travel a long haul (such as Route 66) in only one direction.
How to rent
Several companies rent RVs. To find one near you, go to the Recreational Vehicle Rental Association (RVRA) website, or look in your local telephone directory.

Make reservations for your RV about three months in advance, especially for holiday periods and peak travel seasons, when tourists from Europe, Australia, and New Zealand that like to rent them for visits to national parks or drives along the California coast. During the off season, however, you may be able to book a spur-of-the-moment rental for a few days or a week, especially from a nearby dealer.

The most common rental unit available is the motor home — the Type C mini-motor home — which accounts for 90 percent of all rentals.

Prices begin at around $1,000 per week plus a fee for miles driven. For tips on negotiating a rate, see "How to get the best rate." Keep in mind, however, that your rental rate doesn't include
The use of the generator: You need the generator for operating the ceiling air conditioner, microwave oven, and TV in places that don't have electrical hookups. When you return the RV, the dealer reads the generator counter (usually located near the on/off switch) to determine the use-time you logged.
Certain furnishings and utensils: Some companies offer a furnishings package with bedding, towels, dishes, cooking pots, and utensils for a flat rate of about $85 per trip. Other companies offer add-on kits containing power cords and hoses, plastic trash bags, toilet chemicals, and a troubleshooting guide. Sometimes, purchasing these packages, or bringing items from home makes more sense than spending vacation time searching for them. Ask the rental company for a list of what's included in your rental so that you'll know what you need to bring or buy.
Connections for travel trailers: When you find a company that rents travel trailers, you may be required to furnish your own tow vehicle and hitch, as well as electrical hookups on the tow vehicle.
Insurance: Insurance on a rental RV normally isn't covered in your own automobile insurance, so ask your insurance agent for a binder that extends your coverage to the RV for the rental period. Many dealers require a binder before you rent a vehicle.
Most rental centers request a cleaning deposit, which isn't returned if you bring the vehicle back with the holding tanks full or the interior dirty or damaged. Some companies offer free airport pickup and return if you notify them of your flight number and estimated arrival time.

At the dealership, make sure that the dealer demonstrates all the components and systems of the RV you're renting. Take careful notes. As you would with a rental car, check for dents and damage from previous use, and document the damage with the dealer before leaving the lot. Also make sure that you're given a full set of instruction booklets and emergency phone numbers in case of a breakdown. Having a 24-hour toll-free number to call in case of a problem is best.

If you fall in love with your rental vehicle, you may be able to negotiate a purchase price that subtracts your rental fee from the total. You may get a good deal if the vehicle is a few model years old; most rental dealers get rid of vehicles after two or three years.
How to get the best rate
For the best rental rate, follow these tips:
Check prices with several companies before making a decision. Establish exactly what the lowest-priced rental includes, such as free miles, the price per mile beyond the daily or weekly limit, amenities such as dishes and linens, and breakdown service.
Try to plan your trip during the off season or shoulder season (the period between the most popular and least popular travel times). The times of year for these seasons vary, depending on the area where you're renting.
Find out whether your own automobile insurance covers rental insurance for an RV. Your agent usually can provide a cheaper rate than the rental company.
Try to plan your trip in a loop so that you can avoid drop-off charges. The rental agency serves as the starting and ending point.
Negotiate based on selection. The more RVs a rental company has, the wider your range of choices. If you're flexible about what sort of rig you rent, you may be able to negotiate a better price when the selection is not limited.
About This Article
This article is from the book:
This article can be found in the category: