Seeing your pictures is just the start of the things you can do when you switch your Nikon D7500 camera to playback mode. The following steps provide a quick introduction to viewing your photos.

Press the Playback button to put the camera in playback mode.

The figure shows you where to find the button. By default, you see a single photo along with some picture information, as shown in the figure. If you instead see multiple thumbnails, press the OK button to switch to single-photo view. If you see a calendar display, press OK twice. (Upcoming sections explain how to use these alternative displays.)

Movie files have a movie-camera icon in the upper-left camera.

To scroll through your picture and movie files, flick a finger across the touchscreen or press the Multi Selector right or left.

The Multi Selector is labeled in the figure. To view the next picture using the touchscreen, flick from right to left across the screen. Flick from the left to go back one picture.

A few quick tips on scrolling in single-picture view:

Want to flick left to go forward and right to go back? Open the Setup menu, choose Touch Controls, and set the Full-frame Playback Flicks option to the one that bears the left-pointing arrow. (Both options are named Left/Right; the difference is the direction of that arrow.)
If you put a finger on the bottom of the display, a gray frame-advance bar appears. Drag right or left on the bar to scroll quickly forward or backwards through your images. Lift your finger to hide the bar and return to the normal playback screen.

You can magnify the image by pressing the Zoom In button. If the touchscreen is enabled, you also can pinch outward to magnify the photo, just as you do on a smartphone or tablet. Use the Multi Selector or drag your finger across the screen to scroll the display so that you can view a different area of the picture.

To reduce the magnification, press the Zoom Out button or pinch inward on the touchscreen. The upcoming section "Magnifying Photos During Playback" talks more about the magnification feature. Note that the feature doesn't work for movies.

To return to picture-taking mode, press the Playback button again or press the shutter button halfway and then release it.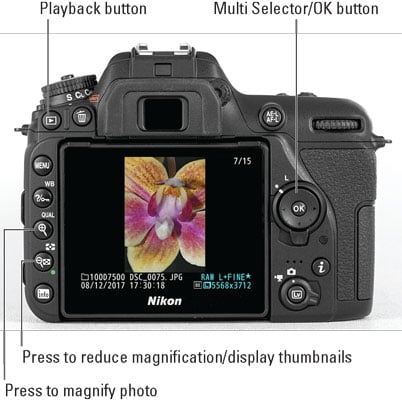 These buttons play the largest roles in picture playback.
About This Article
This article is from the book:
This article can be found in the category: