Scattered across your camera's exterior are numerous features that you use to change picture-taking settings, review your photos, and perform various other operations. Your virtual tour begins with the bird's-eye view shown here. There are a number of features of note here: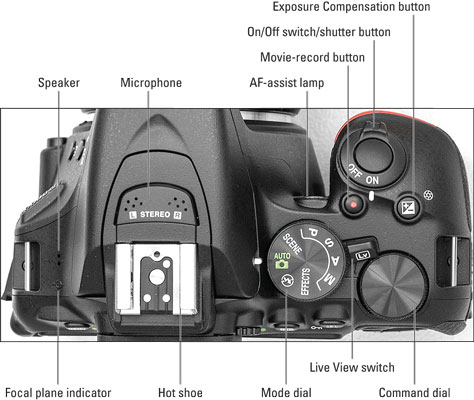 Rotate the Live View switch to shift from viewfinder to Live View photography.
Shutter button/power switch: Okay, I'm pretty sure you already figured out this combo button. But you may not be aware that you need to press the shutter button in two stages: Press and hold the button halfway and wait for the camera to initiate exposure metering and, if you're using autofocusing, to set the focusing distance. Then press the button the rest of the way to take the picture.
Mode dial: With this dial, you choose the exposure mode, which determines which picture-taking settings you can control. You get a number of automatic, beginner modes as well as four advanced modes (P, S, A, and M). Effects mode enables you to apply special effects as an image or movie is captured; the Scene setting accesses automatic modes designed for specific types of shots (portraits, landscapes, and so on).
Command dial: After you activate certain camera features, you rotate this dial, labeled in the figure, to select a setting. For example, to choose a shutter speed when shooting in shutter-priority (S) mode, you rotate the Command dial.

Exposure Compensation button: The main use of this button is to apply Exposure Compensation, which enables you to tweak autoexposure results when using some exposure modes. Hold the button down while rotating the Command dial to adjust the setting.
Live View switch: Rotate this switch to turn Live View on and off. In Live View mode, the scene in front of the lens appears on the monitor, and you can't see anything through the viewfinder. You then can compose a photo using the monitor. For movie recording, you must use Live View; you can't shoot a movie using the viewfinder. The last section of this chapter introduces you to Live View photography.

Record button: After shifting to Live View mode, press this button to start recording a movie. Press it again to stop recording.
AF-assist light: In dim lighting, this light turns on briefly to help the camera locate your focusing target. The light also comes on when you use red-eye reduction flash and the Self-Timer shutter-release mode.
Flash hot shoe: Hot shoe is photography-speak for a terminal that enables you to connect an external flash. On the D5600, the hot shoe also serves as a mount for the optional Nikon ME-1 and ME-W1 stereo microphones.
Microphone: If you don't attach an external microphone, movie audio is recorded using the camera's built-in microphone.
Speaker: When you play a movie, sound comes out of these holes.
• Focal plane indicator: If you need to know the exact distance between your subject and the camera, as you might if you need to photograph objects for scientific or legal documentation, the focal plane indicator is key. The mark indicates the plane at which light coming through the lens is focused onto the camera's image sensor. Basing your measurement on this mark produces a more accurate camera-to-subject distance than using the end of the lens or another external point on the camera body as your reference point.
About This Article
This article is from the book:
This article can be found in the category: