In Calendar display mode on the Nikon D7100, you see a calendar. Select a date, and you can quickly navigate to all pictures you shot that day. A thumbnail image on the calendar indicates that you took pictures on that day.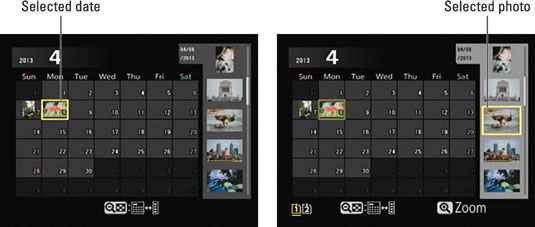 The key to navigating Calendar view is the ISO button:
Press the ISO button as needed to cycle through the thumbnail display modes until you reach Calendar view.

If you're currently viewing images in full-frame view, for example, you need to press the button four times to get to Calendar view.

Using the Multi Selector, move the yellow highlight box over a date that contains an image.

In the left example, the 8th of April is selected. (The number of the month appears in the top-left corner of the screen.) After you select a date, the right side of the screen displays thumbnails of pictures taken on that date.

To view all thumbnails from the selected date, press the ISO button again.

After you press the button, the vertical thumbnail strip becomes active, as shown on the right, and you can scroll through the thumbnails by pressing the Multi Selector up and down. A highlight box appears in the thumbnail strip to indicate the currently selected image.

To temporarily display a larger view of the selected thumbnail, hold down the Qual button.

When you release the button, the large preview disappears, and the calendar comes back into view.

To jump back to the calendar and select a different date, press the ISO button again.

You can just keep pressing the button to jump between the calendar and the thumbnail strip as much as you want.

To exit Calendar view and return to single-image view, highlight the image you want to view in the thumbnails strip. Then press OK.

Press OK again to switch back to Calendar view.
About This Article
This article is from the book:
This article can be found in the category: