Online communities are great places to learn photography and get feedback from other photographers. Join an active community like Flickr or SmugMug.
The photography bug is easy to catch. You take a couple of great pictures and you think you're ready to take on the world. But your enthusiasm quickly wanes when you realize you have a lot to learn and perhaps don't have a clue as to what it takes to create a great photograph of your favorite subjects. When you get discouraged, it's time to get inspired.
After you join a community, start looking for photography you like. When you see something you like, leave a comment. Most photographers on community sites get encouraged when they get a positive comment. A positive comment about another photographer's work piques her curiosity about your work.
If you sprinkle enough comments around, you'll start getting feedback on your work. If the photographer is nearby, you may even strike up a friendship and go shooting together.
The SmugMug community is wonderful and fully customizable. You can order prints of your work from the site and even sell your work. You can customize your pages as well. See an example SmugMug page that was customized to match a website.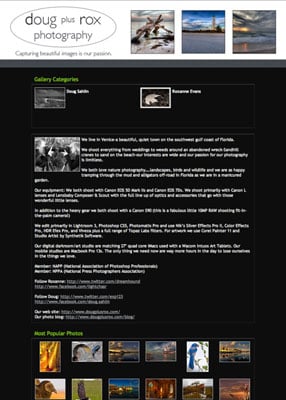 About This Article
This article can be found in the category: