This image was photographed in Myakka River State Park near Sarasota, Florida. The park is beautiful with many miles of trails. This trail meanders through a lush meadow dotted with lovely trees. The sun was sinking low and lovely clouds were in the sky. A polarizing filter was added to the lens, darkening the blues and making the clouds more prominent.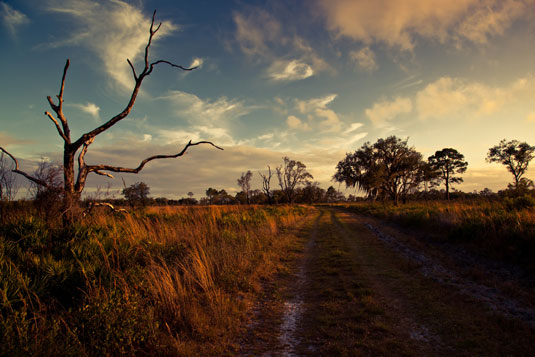 Camera settings
ISO setting 100: There was plenty of light, so there was no need to increase the ISO setting to achieve the desired aperture and shutter speed.

Exposure compensation –1/3 EV: The image is slightly underexposed to saturate the lovely wheat color of the grass and enhance the blue sky.

Focal length 24mm: The shortest focal length was used to capture as much of the scene as possible.

Aperture f/8: With a wide-angle lens, this f-stop gave an acceptable depth of field.

Shutter speed 1/30 of a second: This shutter speed coupled with Canon's superior image stabilization yielded a blur-free image.
Composing the image
The image was composed so that the dead tree was on the left side of the image, serving as a visual anchor to draw viewers into the picture. The shadows on the right side of the image draw attention to the trail, which curves in the distance.
This is one of the rare times where the horizon line is almost in the middle of the image because there was equal visual interest in all parts of the scene. A polarizing filter was also used to darken the sky and make the clouds stand out.
Post processing
The saturation was increased slightly to make the colors pop.
About This Article
This article can be found in the category: