The front-left side of the Nikon D5600 camera has several controls that you can use. Note that the hidden connections like the microphone jacks are on the other side. The following image shows the front-left side that sports some cool features: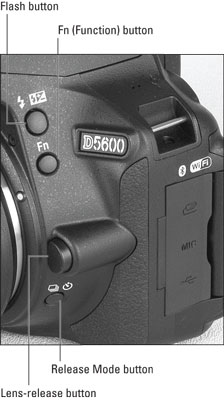 Press the Flash button to use the built-in flash in P, S, A, or M mode.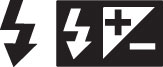 Flash button: In some exposure modes, pressing this button raises the built-in flash. In other modes, the camera controls whether flash is enabled.

By holding the Flash button down and rotating the Command dial, you can adjust the Flash mode (Fill Flash, Red-Eye Reduction, and so on). In some exposure modes, you also can adjust the flash power by pressing the button while simultaneously pressing the Exposure Compensation button and rotating the Command dial. The little +/– symbol that appears below the Flash button — the same symbol that's on the Exposure Compensation button — is a reminder of the button's role in flash-power adjustment.

Function (Fn) button: By default, this button gives you quick access to the ISO setting, which controls the camera's sensitivity to light. If you don't adjust that setting often, you can use the button to perform a variety of other operations.
Lens-release button: Press this button to disengage the lens from the camera's lens mount so you can remove the lens. (If you're using a retractable lens, collapse the lens first.)

Release Mode button: Press this button to display a screen where you can select the shutter-release mode. By default, the option is set to Single Frame, which results in one picture each time you press the shutter button.
About This Article
This article is from the book:
This article can be found in the category: