In this autofocus mode, you see a focus frame at the center of your Rebel T6 screen, as shown on the left. The image shows the Live View display; in Movie mode, the focus frame looks the same. Either way, use the cross keys to move the frame over your subject.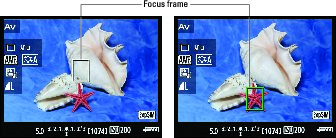 In FlexiZone-Single mode, use the cross keys to move the focus frame over your subject.

Press the Set button to immediately move the focus frame back to the center position. Note: If you use Custom Function 9 to reassign the Set button's function to any option but the default (Normal), you must press and hold the Erase button while pressing Set to center the focus frame.

After positioning the focus frame, press the shutter button halfway to start autofocusing. The focus frame turns green when focus is achieved, as shown on the right. (The frame was moved over the starfish before setting focus.) The camera also emits a beep, unless you turned off that function (through the Beep option on Shooting Menu 1). If the camera can't focus on the spot you selected, the frame turns red.
About This Article
This article is from the book:
This article can be found in the category: