By using the Copyright Information feature on Setup Menu 4 of your EOS 80D, you can add copyright information to the image metadata (extra data) recorded with the image file. You can view metadata in the Canon software.

This feature isn't available in the fully automatic shooting modes. So set the Mode dial to P, Tv, Av, M, B, C1, or C2 and then select Copyright Information from Setup Menu 4 to display the screen shown on the left. Select Enter Author's Name to display the keyboard screen shown on the right.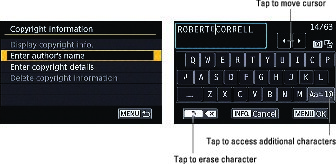 Look for the copyright function on Setup Menu 4.
Any time you see a keyboard screen, enter data by using these techniques:
Touchscreen entry: Just tap the letters you want to enter. Tap the symbol labeled Tap to Access Additional Characters to switch the keyboard from displaying all uppercase letters, all lowercase letters, or numbers and symbols. To move the cursor, tap inside the text or tap the arrows at the end of the text entry box; to erase the character to the left of the cursor, tap the Erase icon.
Button-based typing: Enter text as follows:

Press the Q button to alternate between the text box and the keyboard.
In the keyboard, use the Multi-controller, Quick Control dial, or Main dial to highlight the character you want to enter. Press Set to enter the character.
In the text box, use the Multi-controller to move the cursor.
To delete a character, move the cursor just past the letter and press the Erase button.
Either way, after you enter your name, press the Menu button or tap the Menu icon. Then select Enter Copyright Details from the screen shown on the left and enter your copyright data. You might want to add the word Copyright and the year, for example, or your company name.

To check the accuracy of your data, select Display Copyright Information from the screen shown on the left. You can later disable the copyright tagging by using the Delete Copyright Information option on the same screen.
About This Article
This article is from the book:
This article can be found in the category: