Quite a few customization features await on the Rebel T6i/750D's Setup Menu 3.Setup Menu 3, shown in the following figure, contains the following customization offerings: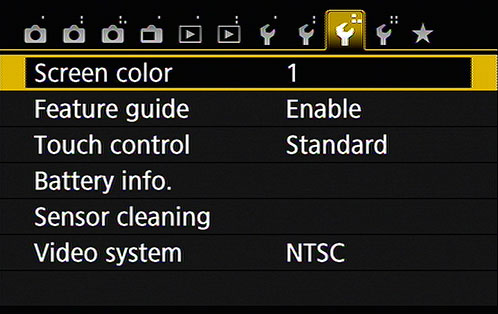 Screen Color: By default, the Shooting Settings screen shows shooting information in white over a basic black background. Some grayscale shading is used, and accents are generally highlighted in orange. Including the default, there are five color combinations that you can experiment with. They differ in color, contrast, and brightness. Some will look great during the day and others will keep your eyes from dilating in low‐light conditions or at night. Here's a summary of the available settings (named ever‐so imaginatively):

1: The default. White on black, with grayscale and orange accents.

2: Setting number 2 displays the background in light gray with information in black or white. Accents are in blue.

3: This setting shows information in a light pink with a dark­reddish‐gray background.

4: If you want the background displayed as deep blue with lighter blue information and accents, choose this option.

5: This color combo (bright red on deep red) is reminiscent of movie‐style submarine lighting at night when the sub surfaces. The idea is to be able to see information at night without ruining your night vision. The setting isn't as sharp as the others. If you have a form of color blindness, you may see this tinted differently, but you won't miss out on any information.

This option does not affect Live View or Movie mode screens, nor does it change the Playback interface.

Feature Guide: When this option is enabled and you choose certain camera settings, notes appear on the monitor to explain the feature. Although the Feature Guide screens are helpful at first, having them appear all the time is a pain after you get familiar with your camera. Leave this option set to Disable.

Touch Control: This setting controls the touch screen interface.

Battery Info: Select this option to see battery information, as shown here. You can see what type of battery you have in the camera (or if you're connected to the power grid), how much power you have left (using the universal symbol for battery levels), and the battery's recharge performance. For this last feature, three green bars mean that the battery is working fine; two bars means that recharging is slightly below par; and one red bar means that you should invest in a new battery as soon as possible.

Check battery health using the Battery Info screen.

Sensor Cleaning: Choose this option to access features related to the camera's internal sensor‐cleaning mechanism. These work like so:

Auto Cleaning: By default, the camera's sensor‐cleaning mechanism activates each time you turn the camera on and off. This process helps keep the image sensor — which is the part of the camera that captures the image — free of dust and other particles that can mar your photos. You can disable this option, but it's hard to imagine why you would choose to do so.

Clean Now: Select this option and press Set to initiate a cleaning cycle. For best results, set the camera on a flat surface during cleaning.

Clean Manually: In the advanced exposure modes, you can access this third option, which prepares the camera for manual cleaning of the sensor. Sensors are delicate. You're really better off taking the camera to a good service center for cleaning.

Video System: This option is related to viewing your images and movies on a television. Select NTSC if you live in North America or other countries that adhere to the NTSC video standard; select PAL for playback in areas that follow that code of video conduct. Your selection also determines what frame rate settings you can select when recording movies.
About This Article
This article is from the book:
This article can be found in the category: