One of the most useful features on your Canon EOS 70D for the experienced photographer is the C setting on the Mode dial. This option, which stands for Camera User Settings, enables you to set up your own exposure mode. You start by selecting and saving all the camera settings you want to use when you switch to C mode. Then when you're out shooting, you can invoke all those settings simply by setting the Mode dial to C, as shown in the figure below.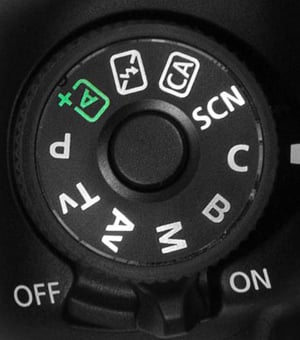 To take advantage of C mode, follow these steps:
Set up your camera.

Start by selecting the exposure mode on which you want to base the custom mode (Tv, Av, M, and so on). Then set the initial exposure, flash, autofocusing, Drive mode, and color options you want to use when you switch to C mode. Next, take a trip through the menus and select your preferred settings. You can store all menu settings except the following:

Shooting Menu 4: Dust Delete Data, HDR Mode on/off, and Multiple Exposure on/off. The options that you can select when using HDR Mode and Multiple Exposure are stored, but make sure to set both features to disable before you take Step 2.

Live View Menu 1: Touch Shutter.

Movie Menu 2: Time Code (although the Movie recording count and Movie play count settings available for this menu option are stored).

Playback Menu 1: No options on this menu can be stored.

Playback Menu 2: Resize and Rating; for Slide Show, show settings are stored.

Playback Menu 3: Ctrl over HDMI.

Setup Menu 1: Select Folder and Format Card.

Setup Menu 2: Date/Time, Language, and GPS Device Settings.

Setup Menu 3: Video System, Feature Guide, Wi-Fi, and Wi-Fi Function.

Setup Menu 4: None can be stored except the Auto Cleaning setting available for the Sensor Cleaning option.

Custom Functions Menu, Operation/Others category: Warnings in viewfinder.

My Menu: Your custom menu options aren't stored, either.

Open Setup Menu 4 and choose Custom Shooting Mode (C Mode), as shown on the left in the figure below.

The screen shown on the right in the preceding figure appears.

Choose Register Settings.

You see a confirmation screen; choose OK. The camera stores your settings and returns you to the screen shown on the right in the above figure.
As for the other two options on that menu, they work like so:
Clear Settings: Select this option to return C to its default state, which is modeled after the P (programmed autoexposure) mode.

Auto Update Set(tings): When you're working in C mode, you can still change any camera setting — you're not locked into the registered settings. If you enable this menu option and then vary a registered setting, the camera automatically registers that new setting as part of your C mode. Needless to say, you can get off track quickly if you enable this function, which is why it's turned off by default.
One quirk to note about C mode: When the Mode dial is set to C, you can't restore the camera defaults by choosing Clear All Camera Settings from Setup Menu 4 or Clear All Custom Functions from the Custom Functions menu.
About This Article
This article is from the book:
This article can be found in the category: