Many of the basic operational options on the Canon EOS 70D live on the Setup menus. Setup Menu 3, shown in the following figure, offers the following goodies: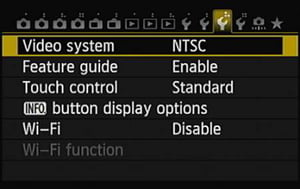 Head to Setup Menu 3 to enable or disable the Wi-Fi functions.
Video System: This option is related to viewing your images and movies on a television. Select NTSC if you live in North America or other countries that adhere to the NTSC video standard; select PAL for playback in areas that follow that code of video conduct.

Feature Guide: When this option is enabled and you switch exposure modes (via the Mode dial) or choose certain other camera options, notes appear on the monitor to explain the feature. The guide screens disappear after a few seconds automatically or, in some cases, after you tap the little x in the upper right of the message box.

Although the Feature Guide screens are helpful at first, having them appear all the time can be a pain after you get familiar with your camera, so you may want to leave this option set to Disable.

Touch Control: This setting controls the touchscreen interface.

Info Button Display Options: This setting determines which information screens appear when you press the Info button during shooting.

Wi-Fi: By default, the Wi-Fi interface is turned off. When you're ready to take advantage of the Wi-Fi features, set the option to Enable. Note that movie recording is disabled when the Wi-Fi feature is turned on.

Wi-Fi Function: This is the route to the various wireless connectivity options built into your camera.
About This Article
This article is from the book:
This article can be found in the category: