The figure shows Setup Menu 4 on the Canon EOS Rebel T7i/800D, which you can access only in the advanced exposure modes: P, Tv, Av, and M.
Custom Functions: Selecting this option opens the door to Custom Functions, which are a set of advanced features.
Clear Settings: Via this option, you can restore the default menu settings. You also can reset all the Custom Functions settings to their defaults.
Copyright Information: Using this option, you can embed copyright information in your files.
Manual/software URL: Canon provides a hefty printed camera manual in the T7i/800D shipping box. But you also can download an electronic version of the manual so that you can read it on your smartphone, tablet, or computer.

To make finding the download site easy, choosing this menu option displays a QR code (Quick Response code). If your smartphone or tablet has an app that can read these codes, you simply aim the device's camera at the code to display the download site's web address (URL, or Universal Resource Locator). The site also provides access to the Canon software that's available for free download to purchasers of the camera.

Certification Logo Display: You have permission to ignore this screen, which simply displays logos for a couple electronics-industry certifications claimed by the camera. You can find additional logos on the bottom of the camera.
Firmware Ver.: This screen tells you the version number of the camera firmware (internal operating software). At the time of publication, the current firmware version was 1.0.1.
Keeping your camera firmware up-to-date is important, so visit the Canon website regularly to find out whether your camera sports the latest version. Follow the instructions given on the website to download and install updated firmware if needed.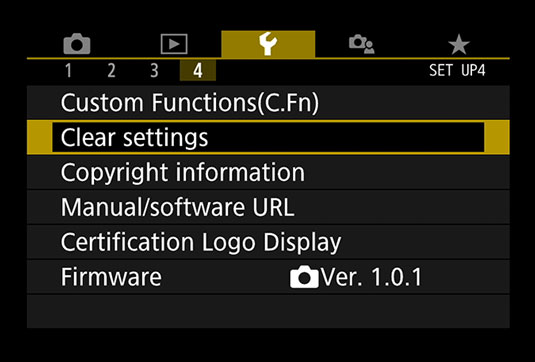 To display Setup Menu 4, you must set the Mode dial to P, Tv, Av, or M.
About This Article
This article is from the book:
This article can be found in the category: