To view the options on Setup Menu 3, put the Canon EOS Rebel T7i/800D camera in still photo mode (the On/Off switch should be set to On) and exit Live View mode, if it's active (press the LV button to turn Live View on and off). Then rotate the Mode dial on top of the camera to the P position, which selects the Programmed Autoexposure mode, one of four advanced exposure modes. You can adjust all the camera's options only in these four exposure modes.

Setup Menu 3, shown in the figure, contains the following offerings:
GPS Device Settings: If you attach the optional GP-E2 GPS device, this menu option offers settings related to its operation.
Video System: This option relates to viewing your images and movies on a television. Select NTSC if you live in North America or other countries that adhere to the NTSC video standard; select PAL for playback in areas that follow that code of video conduct. Your selection also determines what frame rate settings you can select when recording movies.
Touch Control: Choose this setting to adjust the sensitivity of the touchscreen or disable the touchscreen altogether.
Beep: Choose Enable if you want the camera to emit an audio cue when you select an option by tapping the touchscreen and when the autofocusing system has found its focus point. The second option, Touch, disables touchscreen sounds only; choose Disable to turn off both sound effects.
Battery Info: Select this option to see battery information, such as the type of battery in the camera, how much battery juice is left, and the battery's recharge performance. For this last feature, three green bars mean that the battery is working fine; two bars means that recharging is slightly below par; and one red bar means that you should invest in a new battery as soon as possible.
Sensor Cleaning: Choose this option to access features related to the camera's internal sensor-cleaning mechanism. These work like so:

Auto Cleaning: By default, the camera's sensor-cleaning mechanism activates each time you turn the camera on and off. This process helps keep the image sensor — which is the part of the camera that captures the image — free of dust and other particles that can mar your photos. You can disable this option, but it's hard to imagine why you would choose to do so.
Clean Now: Select this option and press Set to initiate a cleaning cycle. For best results, set the camera on a flat surface during cleaning.
Clean Manually: In the advanced exposure modes, you can access this third option, which prepares the camera for manual cleaning of the sensor. Because you can easily damage the image sensor, rendering your camera a paperweight, use extreme caution if you decide to try cleaning the sensor yourself. You're really better off taking the camera to a good service center for cleaning.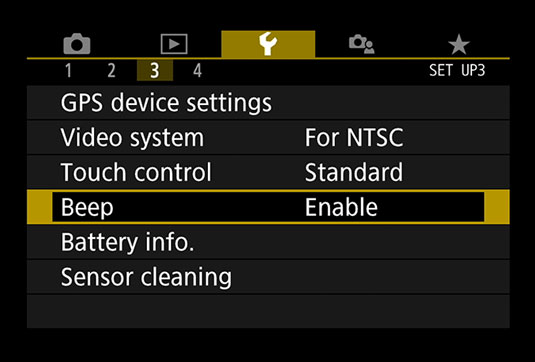 Still more customization features await on Setup Menu 3.
About This Article
This article is from the book:
This article can be found in the category: