After you take a picture on the Canon EOS Rebel T7i/800D, it automatically appears on the monitor for 2 seconds. You can adjust the post-capture display time via the Image Review option on Shooting Menu 1, shown here. (The figure shows the menu as it appears in P, Tv, Av, and M exposure modes; the Basic Zone version contains a few different options, but both menus contain the Image Review setting.)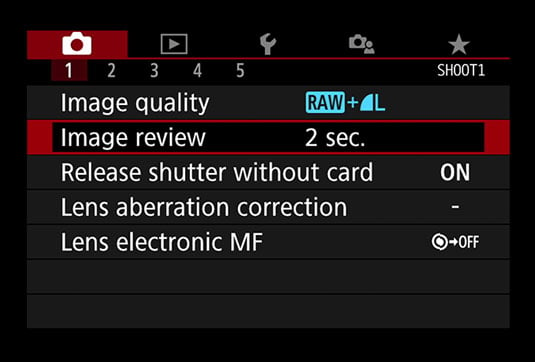 Control the timing of instant picture review.
You can select from the following Image Review options:
A specific review period: Pick 2, 4, or 8 seconds.
• Off: Disables image review. Turning off the monitor saves battery power, so keep this option in mind if the battery is running low. You can still view pictures by pressing the Playback button.
Hold: Displays the current image indefinitely or until the camera automatically shuts off to save power. Camera shutdown timing is controlled through the Auto Power Off option on Setup Menu 2.
About This Article
This article is from the book:
This article can be found in the category: