Set the Mode dial on your Canon EOS Rebel T7i/800D to Creative Filters, as shown in the following figure, to apply effects as you record pictures or movies. (This is the only way to create a movie with effects.) In this case, you don't wind up with an unfiltered original and a special-effects version; you get only the special-effects image or movie.
Choose this exposure mode to add special effects to photos or movies as you shoot.
Some effects offered during playback are available during shooting; you also get a few effects not provided during playback. The available effects vary depending on whether you're shooting stills or movies. To explore your options, press the Q button to put the camera in Quick Control mode and then look for the Creative Filters option on the screen. The left side of the following figure shows you where to find the option during viewfinder shooting; the right screen shows the option as it appears during Live View and Movie shooting.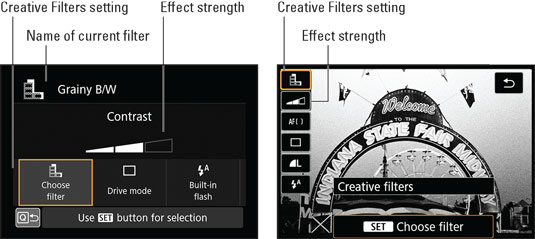 Use the Quick Control screen to select and adjust an effect.
After highlighting the Creative Filters option, press Set to display the screen shown in the following figure. Scroll the display up and down to check out all the available effects. When you find one you like, press the Set button to return to the Quick Control screen. For some effects, the screen now offers a second option that enables you to adjust the impact of the filter. For example, the adjustment option for the Grainy Black and White filter is labeled.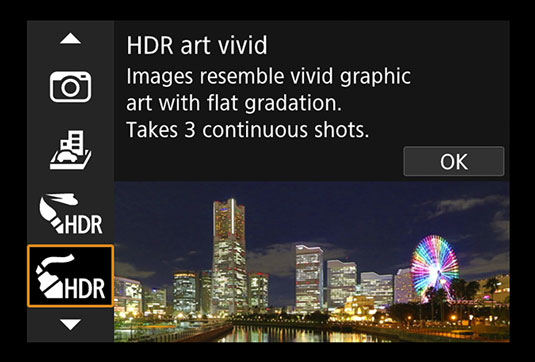 After you choose the Creative Filters option, you see a screen offering an illustration and a bit of information about each filter.
A few other quick pointers:
For still photos, all images are stored in the JPEG format, even if the Image Quality option is set to Raw.
During Live View and Movie shooting, you can also access creative effects when the Mode dial is set to P, Tv, Av, or M. Just display the Quick Control screen and look for the Creative Filters symbol on the right side of the screen. The symbol looks like the one that marks the Creative Filters setting on the Mode dial. If the symbol is dimmed, another setting is interfering; for example, you can't apply a filter when the Multi-Shot Noise Reduction option is enabled.
About This Article
This article is from the book:
This article can be found in the category: