A platform bathtub is often enclosed in a framed platform. After the platform is built and the plumbing is roughed in, you place the tub in the platform. It's easier to install a whirlpool tub after you've installed the tile on the top surface of the platform, but you may not have enough room to move the large tub around the bathroom as you build the partitions. If that's the case, install the tub before the tile.
Follow these steps to secure the tub in the platform:
If the tub must be installed before the tile, place wood blocks on the platform along the perimeter of the cutout to support the tub at the correct height above the plywood deck.
The wood blocks should be the thickness of the backer board, tile, and two layers of thinset mortar.
Apply a layer of mortar to the floor below the tub for additional support.
The manufacturer should provide more specific instructions about this process.
Carefully lift the tub by its rim and set it in the cutout hole.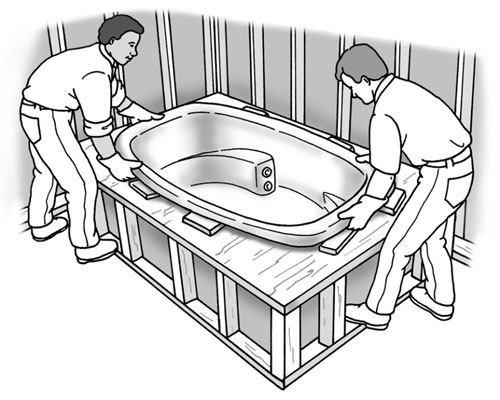 You will need at least one other person to help you lower the tub into place.
Install the drain assembly and connect the wiring to the motor and controls.
You will need to wait for the mortar to set. Drying time varies by product, so check your label.
Install backerboard to the sides and top of the platform with backerboard screws.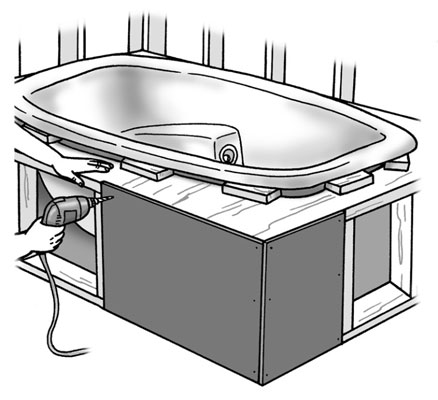 Your tub is starting to take shape, and now you can get started on the cosmetics of it.
Apply thinset mortar and install the tile or other surface material.
Platform tubs are often surrounded with tile, but you can use wood or other materials to turn your bathtub into a stunning centerpiece.
Install the faucet on the deck of the platform. Run the riser tubes from the faucet to the rough-in water supply pipes.
Installing the faucet isn't too difficult. Instructions will come with the hardware, but you can always hire a plumber if you are worried about your skills.
After the tiling work is completed, apply caulk to fill the joints between the tub and the tile and between the tiled base of the platform and the finished floor.
Be sure to use silicone-based caulk when working with bathroom surfaces.
About This Article
This article can be found in the category: