Mirror, mirror on the wall . . . Reflective glass can be decorating magic for one and all! Wall mirrors serve as looking glasses, double the view they reflect, and add sparkle. Perhaps best of all, mirrors make spaces seem larger, a real bonus for a too-small room.
Place a mirror where you want to see your own reflection (an entry hall), reflect an interesting view (opposite a window), create a strong focal point (above a mantel), or light up a dark area (above a hall console or table in a corner). Be sure your mirror reflects something interesting.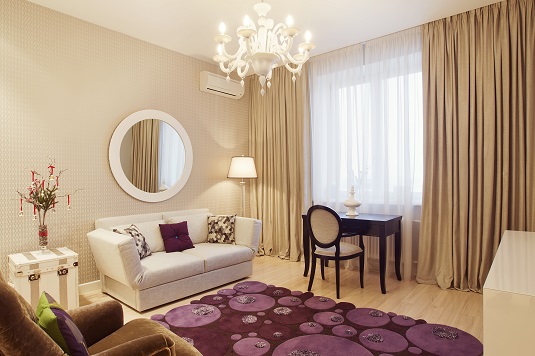 Credit: ©iStockphoto.com/petinovs
Framed wall mirrors for home decorating
Selecting framed mirrors that echo the shape of other furniture is always a safe bet. In a dining room with round- or shield-back chairs, for example, a round mirror above the mantel is a subtle unifying element. Mirror frames come in every conceivable furniture style and period, including such favorites as Chippendale, Federal, the Louises, and Contemporary, so matching mirror and furniture style is easy. But using a large Contemporary mirror to add an eclectic note to a Traditional scheme, for example, is perfectly acceptable.
For the non-traditionalist, you can find many fabulous ethnic, whimsical, and purely creative styles — or whip up your own. For example, take two white-birch branches, cross them at the bottom (attaching them with glue and tiny nails), round them gently around a round mirror glued onto a plywood circle, then cross them at the top (with some leaves attached) and secured them. The branches would make a delightful frame for a mirror in a summer cottage's entry hall.
Frame finishes range from traditional woods and wood tones to gilded bright or antique golds to antique painted and decorated finishes. Match the frame's finish to the level of formality or informality of your furniture. Choose one that contrasts with the wall it's hung against: a dark frame to hang against a light wall or vice versa. Traditionally, you want the mirror frame to relate to the furniture below it in value (one shouldn't be too much lighter or darker than the other), if not in color. In Contemporary interiors, contrast is key, and eclecticism is perfectly okay.
Wall mirror frame materials include finished wood, metal, bamboo, and stained glass. Newer, more eccentric designs may be ultra simple or heavily carved and embellished with natural-looking leaves and flowers as well as jewel stones, bits of marble, and colored glass. The plainer the wall, the more elaborate the frame may be. In an artsy room, the busier both are, the better.
Frame size is also important. Like a work of art, a mirror shouldn't be wider than the furniture below it nor less than two-thirds the width. If a mirror is too narrow to adequately fill the wall space, add paintings or sconces on either side. For more drama, hang a mirror vertically above a chest or console.
Large wall mirrors — especially long, vertical mirrors — can hang alone, without furniture beneath them. Medium-sized mirrors look more important if you group them with framed art, porcelain plates, or figurines and hang them above a dresser, chest, or table. You can group a collection of tiny mirrors — especially those with inventive frames — as you would a collection of paintings.
Frameless mirrors for a different look to your decor
Modern-style wall-hung mirrors may have no frame at all. Less expensive mirrors without frames, wall-to-wall mirrors, and do-it-yourself mirror tiles and panels are available with plain or beveled edges. Beveled-edged mirrors are heavier, more substantial looking, and work well in Traditional interiors. Plain-edged mirrors look especially sleek in Contemporary settings. Against a dark wall, you don't notice the absence of a frame.
Mirror glass in clear and colors for your home
Clear glass is the norm for framed mirrors in Traditional styles. But more decorative glass includes mysterious, darkened, splotched, antique-looking glass. (The real effect occurs when the mirror backing begins to deteriorate.) A wide variety of colored glasses are available, ranging from steel gray to various metallic colors, including copper and bronze. Another unusual glass is amber, a jewel-stone color. Factor mirror glass color into your scheme.
Clear glass reflects only what's put in front of it, so it's acceptable in almost any setting. Antique glass is a natural with antique or Traditional frames and furniture and can be a striking eclectic accent in a Contemporary room. Colored glass — especially metallic copper and brass, as well as the various grays — requires a greater understanding of color relationships and a deft hand, but it's generally at home in Contemporary situations. Copper glass in an antique copper frame can also take on a western or lodge look, while grays framed in driftwood (also gray) can take on a country- or beach-house look.
About This Article
This article is from the book:
This article can be found in the category: