When you're ready to begin upcycling furniture and other items for home decor, your first step is finding materials. Luckily for you, your next great score is just around the corner. Literally. You might actually find it as you're walking down the street! The world is seemingly chock-full of items that people no longer want. This is great news for opportunistic upcyclers ready to gather the goods.

There are several go-to places to explore when you're looking for goodies. Here's the lowdown on where to score the most prolific pieces and how to source like a professional.
A thrilling adventure: Thrift stores
There's so much opportunity to find gold at thrift stores. But there's a bit of an art to thrift shopping.

When you start thrift shopping it's easy to become overwhelmed or buy things you don't actually want. Here are some guidelines to make sure you can thrift shop with the best of them:
Focus on finding high-quality furniture and home decor made from wood, wicker, glass, and metal. These materials offer the best value and are the easiest to clean.
Be strategic about the neighborhood that you're shopping in. Check out the thrift stores in older neighborhoods and wealthier neighborhoods for antique and vintage finds. Over time, you'll discover which stores generally have the leading selection.
Shop at the most favorable times. To snag the choicest deals, shop when the merchandise is fresh. Mornings, Mondays, and Tuesdays are ideal because stores generally restock over the weekends.
Get clear on what you're actually looking for. Being specific about what you're after will keep you on track.
Shop frequently. Committing to thrift shopping means being persistent. If you're on the hunt for something specific, devote time to visit at least weekly, and be prepared to leave empty-handed if you don't find what you're looking for.
Check out lesser-known thrift stores to scoop some goodies. The bigger chains like Salvation Army and Goodwill are often priced higher and are more picked over.
Find out when the sales are. Thrift stores offer discount days.
If you see something you truly love, buy it. The nature of thrift stores is that inventory often flips. If a unique piece catches your heart, snag it. You never know when or if you'll see it again.
Thrift shopping while on road trips is a perfect time to find treasures. Smaller towns and rural places often have unique items and good deals.

The photo below shows a couple of gems waiting to be discovered at a thrift shop.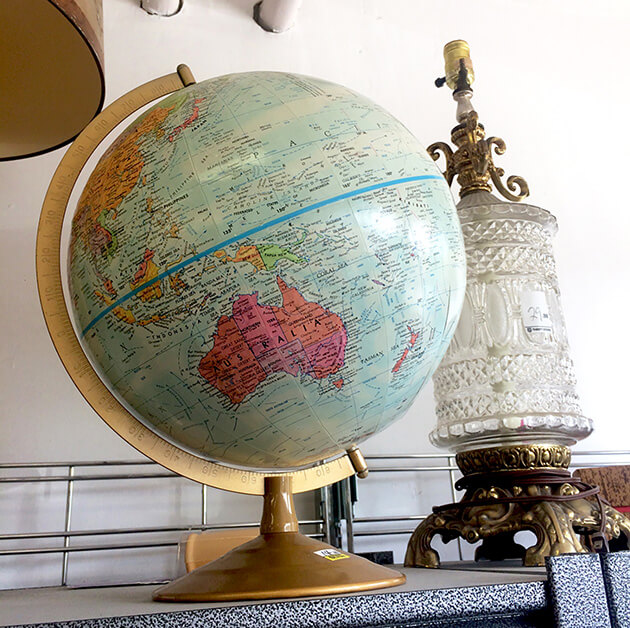 ©John Wiley & Sons, Inc.
Here are two thrift store beauties waiting to be found.
A 24/7 opportunity: Online marketplaces
Online marketplaces like Facebook Marketplace, Craigslist, and eBay are great for when you're looking for a specific item. Another upside: they're always open. Tailor your searches by using keywords like "mid-century modern" or "farmhouse," and check frequently for the first-rate pieces. Items on here are constantly being added.
Design styles
When you're reading online descriptions of marketplace items, you may see the following terms, which identify the item's design style:
Mid-century modern: Simple and beautiful wooden furniture from the 1950s and '60s with a focus on clean lines and curved designs. Teak, walnut, mahogany, and rosewood were predominantly used.
Farmhouse: Farmhouse style is rooted in the rustic and comfortable farmhouses of the 18th century. These items feature elements made of reclaimed wood that have been weathered or white washed.
Items that are popular to buy and sell on online marketplaces include:
Large furniture: This category includes couches, tables, dressers, hutches, dining room sets, and outdoor furniture.
Small furniture: Think chairs, end tables, stools, and shelves.
Lamps and light fixtures: Pendant lights and chandeliers may be things you want to watch for.
Seasonal decor: Check early in the season for unique holiday decor.
Rugs: This is a reliable place to find secondhand and vintage rugs in great condition.
Buying on Facebook Marketplace is safer than buying on other online marketplaces because you can see the profile of the seller. Meet in a public place or do a "porch pickup," which means meeting in the lobby or outside the residence. If you can't do that, bring a friend with you.

Act fast if you see an item that you like. Good deals are often scooped up within the hour. Also, use the bookmark icon (see the figure below) to save items that you like on Facebook Marketplace so that the service's algorithm learns your taste and can recommend relevant items.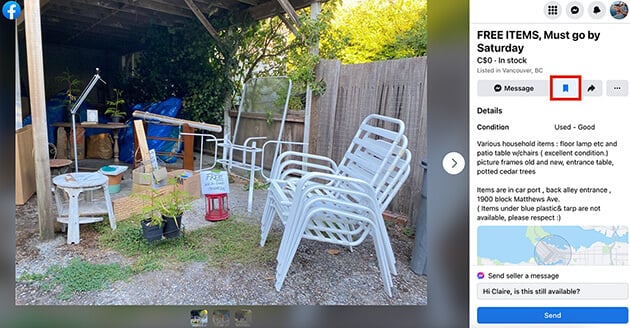 ©Facebook
Click the bookmark icon to save an item on Facebook Marketplace.
When it comes to searching online marketplaces, the words you use matter. The descriptors and keywords you search greatly affect what you find.
Here are some keywords to search that will often deliver the literal goods:
Old: This is a good search word that often triggers undervalued vintage or antique items.
Must go: This is a surefire way to nab a great deal. Don't hesitate to negotiate here.
Grandma's/grandma/grandmother: This frequently indicates items in pristine condition.
Heavy or solid: This is the perfect way to reference real wood furniture.
Funky: This is a great descriptor for finding unique pieces.
If you're looking for specific items, try searching using a few different terms. For instance, a couch could also be called a sofa, loveseat, daybed, or sectional. Also, when it comes to keywords, the more specific you can be the better. Try searching by decade, material, style, color, and pattern.

If you want a lower price, negotiate before you agree to buy the item. It always pays to be respectful when negotiating. A good tactic is to ask if the seller has any wiggle room on price. However, be mindful to avoid haggling when items are marked as "price firm."

Facebook Marketplace, Craigslist, and eBay may be the most well-known online outlets, but they're certainly not the only ones. Try checking out these other options: Kijiji, OfferUp, Nextdoor, Freecycle, and Facebook buy/sell and buy nothing groups.
The weekend mission: Garage sales
Garage sales are super fun to shop because the prices are generally low, and you truly never know what you're going to find. That being said, they can sometimes be hit-or-miss. Here's how to optimize your shopping experience.
Timing is everything
Garage sale season generally kicks off with spring cleaning and goes into the early fall. This is a weekend affair, with Saturdays from 9 a.m. to 4 p.m. being the most popular times.

When it comes to the best time of day to shop garage sales, keep these factors in mind:
The early bird gets the worm. Go at the beginning of the day to score the best pieces, especially for larger items like furniture.
Midday is a good time to shop if it's super hot or rainy. Vendors will be motivated to get out of the elements.
Don't disregard the afternoon, though. The end of the day (around 2 p.m.) is prime for scoring crazy deals because sellers are willing to slash and burn prices to get rid of things.
Planning your attack
When it comes to shopping garage sales, you can do it either organically or by researching in advance. To find the best sales spontaneously, take the scenic route by driving through suburban neighborhoods as opposed to traveling the highways.

Shop strategically. Websites like Garage Sale Tracker and Yard Sale Search enable you to see all the advertised sales in your area. Apps like Yard Sale Treasure Map pull in listings from Craigslist.

There are also a lot of local garage sale groups on Facebook. Posting in these groups regularly show images of items for sale, potentially with the option to pre-buy. Older folks (with vintage items) often advertise their garage sales in newspaper classifieds. With these tools, you can plan a route and hit multiple sales in a day.
If you don't look, you won't know
It's hard to know what's available without checking. If you drive past a garage sale, and you have time, it's worth taking a look to see what's there. You might even hit the jackpot and run into a moving sale.

When you arrive on the scene, do a loop to see what's available. Large, well-made furniture will be snatched up first.
Buying only what you truly want or love
Just because something is cheap doesn't mean it's a good deal. If you're not going to use an item or flip it, it's a waste of money.

Make a list of items you're looking for and keep it on your phone. That way you're less likely to get swept up buying things you don't need.
Scoring the lowest prices
Most of the time, garage sale prices are negotiable. Here's how to get the best deals:
Bundle items: Start a collection and offer a price for all of it or ask for a bundled discount. Sellers are motivated to sell as much as possible, so you can often get a deal on multiple items.
Form a connection: Ask about the history of the pieces and share your plans for them. People like to see their items go to a good home.
Haggle within reason: Lowballing can be seen as disrespectful. Offer a decent price (never less than 50 percent), and be prepared to negotiate up.
Cash is (still) king: Bring lots of small bills. Offering a price with cash in hand is a strong purchasing strategy.
About This Article
This article is from the book:
This article can be found in the category: