Upcycling is a transformational process that gives waste a second life. It's taking something that was considered trash and turning it into treasure. Upcycled items are more functional, beautiful, and valuable than what they previously were.
Why upcycle?
There are many reasons to upcycle. Here are just a few:
Upcycling is beneficial for the planet. Repurposing and reusing items reduces the amount of garbage that ends up in the landfill.
It's fun to be creative. Upcycling gives you a chance to express your creativity as you reimagine an item's look and purpose.
You can make money with upcycling. Upcycling is a creative outlet that you can monetize.
Crafting your own bespoke furniture and home decor can be incredibly satisfying. Being able to proudly say, "I made that" feels wonderful.
Finding upcycling inspiration
You can upcycle many amazing items. Here are a few ideas:
Furniture: Coffee tables, industrial side tables, reupholstered chairs, refinished desks, upcycled bars
Home decor: Wine bottle lamps, garden planters, revamped mirrors
Wall art: Collages, frames, stunning upcycled mosaics
Get inspired by ideas on Pinterest or through websites like Upcycle That.
Finding materials
Once you begin upcycling, you'll notice that potential materials are everywhere!
Materials for upcycling include:
Glass bottles: Turn them into lighting, planters, and candle holders.
Pallets: Craft them into coffee tables, sofas, walls, and desks.
Reclaimed wood: Transform into tables, frames, crates, and shelves.
Old items: Look out for items like windows, ladders, glassware, silverware, and hard cover books.
Secondhand furniture: Restore pieces to their former glory or completely reimagine and redo them!
Upcycling is a real-life treasure hunt. You can find materials in any of these places:
Thrift stores: Thrift stores are jam-packed with hidden gems.
Online marketplaces: Online marketplaces like Facebook Marketplace are great for when you're looking for a specific item.
Garage sales: Prices are typically low, and you never know what you're going to find.
Estate sales: These are an incredible place to score high-quality vintage and antique pieces.
Friends and family: You can't beat free! Ask around; you'll be amazed at what people want to gift you.
Reuse stores: Scoop great prices on household items and building materials.
On the street: Sometimes you can find unexpected and awesome scores. Be sure to check thoroughly for bugs before bringing anything home.
Looking for potential
When you're seeking pieces to upcycle, you need to know what to look for. Watch for the following characteristics:
Solid structure: "Good bones" (a well-built and sturdy frame) and dovetail joints indicate a good find.
Real wood furniture: Solid wood tables, chairs, and dressers are highly functional.
Beautiful items: Vintage is valuable, and premium items like glassware, earthenware, mirrors, and lighting are just stunning!
Quick flippers: Items in good condition that only require minimal updates are real finds for monetizing.
Inspired repurposing: Keep your eyes peeled for unique objects that would be great for a new use.
Upcycling techniques
You can upcycle in any of the following ways:
Clean, sand, prime, and paint your way to a whole new look.
Add rustic charm and patina by distressing a piece.
Restore and refinish vintage furniture.
Reimagine the purpose of the item altogether, like turning teacups into soy wax candles.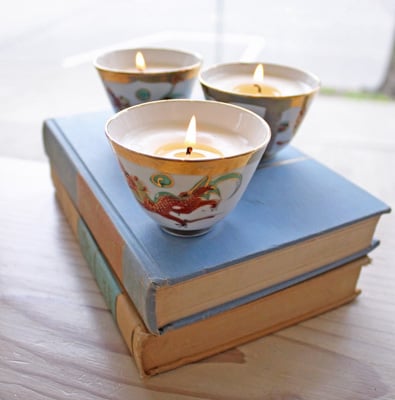 About This Article
This article is from the book:
This article can be found in the category: