Wanting to get the Greek Mediterranean look in your living room? Decorating with the Greek Mediterranean look is a question of knowing how to combine the right elements and colors so that they don't overpower the viewer.
The Greek Mediterranean look is a decorating style that (as you might expect) tries to evoke the feel of homes in the Greek Islands. Traditionally, the Greeks prefer to spend their time on things other than decorating their homes and filling them with fancy things. So, their homes tend to be simple and uncluttered.
The theory is that by living in a simple environment, your mind and soul are free to focus on other things. Greek decorating embraces a union between the inside and the outside, making it ideally suited for homes with a patio or outdoor living area.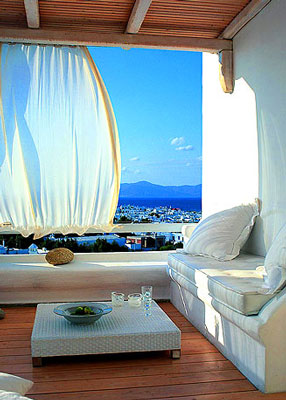 Capture the feel of a sun-drenched vacation with Greek Mediterranean decorating.
However, just because Greek Mediterranean style is simple, that doesn't mean it isn't still beautiful and sophisticated. The following guidelines will help you to capture this sun-drenched style in your home.
This Greek Islands approach adds healthy doses of summer-sky blue to a mostly pure-white background.

Add stone colors to add more depth to the color scheme.

Use textured textiles, both woven and patterned.

Side chairs should be open and airy.

Add rustic, wooden accents.

Look for simple soft lines on the sofa and easy chairs.

Use glazed and decorated pottery and colored glassware for your accessories.

To add splashes of color, use the colors of Greek pottery, tans, reds, and watery greens.
About This Article
This article is from the book:
This article can be found in the category: